The combined knowledge of the League of Gamemakers is a force to be reckoned with. Some of our most popular pieces are on game mechanics. The nuts and bolts. Getting the gears aligned. Finely tuning the engine of your game. Below you'll find a list of blog posts on a variety of game design topics. If you're a game designer and looking to build interesting and engaging mechanics, these posts will help you out. Don't forget to leave some comments if you're so inspired, and be sure to enter our Summertime Raffle for a chance to win a nice stack of games!!!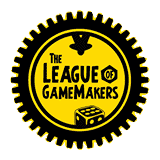 Game Mechanics Blog Posts
by various authors on the League of Gamemakers.
Each posted in the first half of 2014.

The following two tabs change content below.
Designer of Stones of Fate and The Manhattan Project: Energy Empire
Game designer by night, and middle school science and pre-engineering teacher by day. He lives in Santa Maria California with his amazing wife and two unrealistically well-behaved children.
Latest posts by Luke Laurie (see all)