Rethinking Winning in Games
Why I Design
It's a glorious thing to design games. I'm not talking about publishing, making money, or even finishing games. I'm talking about the pure act of designing – creating systems, parameters, diagrams, and sketches; pondering the look and feel; and imagining the laughter and triumph of players. Designing tabletop games is an intellectual pursuit that brings together so many different aspects of being. When I'm designing, I feel the firing of synapses in every corner of my brain – mathematical, spacial, artistic, even social-emotional.
I get to use my mind to create inventions with the uncommon purpose of bringing more fun into the world.
Who Wins a Game?
When we think about the fun of games, we often think about winning. Who wins a game? Often, the answer is one player. How is that determined? Various means: the most victory points, first to accomplish a set of goals, etc. In a traditional game, there is only one winner.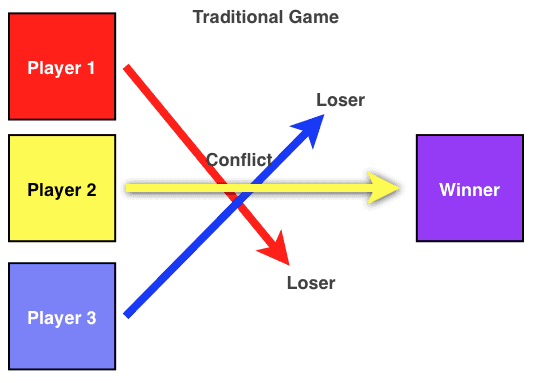 Is the winner always the player who played "the best?" Often, the answer is yes, but we've all played plenty of games where the winner was determined by some kind of minor technicality, or even the roll of a die.
We all know winning feels good. Sometimes it feels great! We also also know that games are fun even when we don't win.
But do we really need to create losers in order to have winners?
Cooperative games
(such as Pandemic and Forbidden Island) have have become very popular in recent years. In these games, everyone at the table wins together, or loses together. The primary conflict in the game is against the challenges created by the game itself. The popularity of these games has shown that people do enjoy games where there can be more than one winner, and they can enjoy a victory, even if no one loses!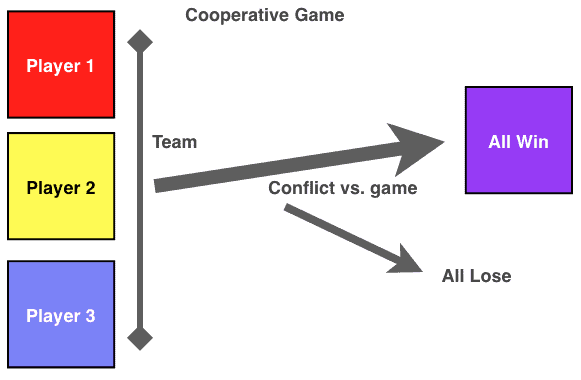 Traitor games
(such as Battlestar Galactica and Shadows Over Camelot) add a twist. Everyone seems to be working together on the surface, but one or more players are secretly working against everyone else. Generally, in these games, either the traitor(s) win, or everyone else does, together, as a team.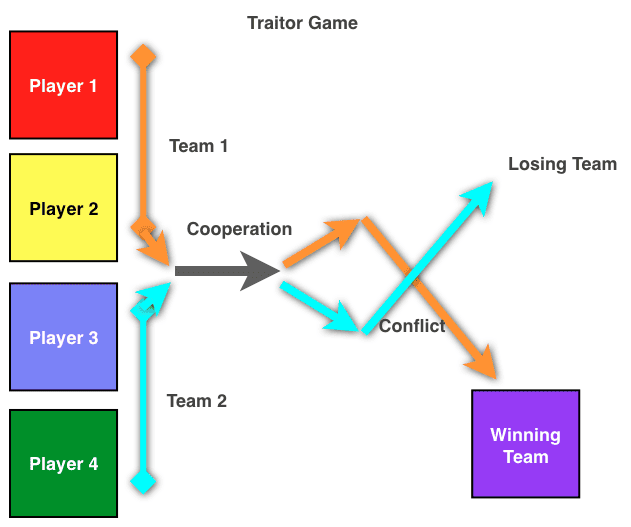 A Game Where Everyone Can Win, and Everyone Can Lose
I'm a fan of all types of games, but I wanted to approach the concept of winning a little differently for my game Replicant. Replicant is a traitor game where everyone is a traitor. Every player has a unique set of secret objectives. No one is pursuing exactly the same combination of results. The game allows players to choose freely when to cooperate and when to oppose other players, in order to achieve their objectives. This game is still in development as of the time of this writing.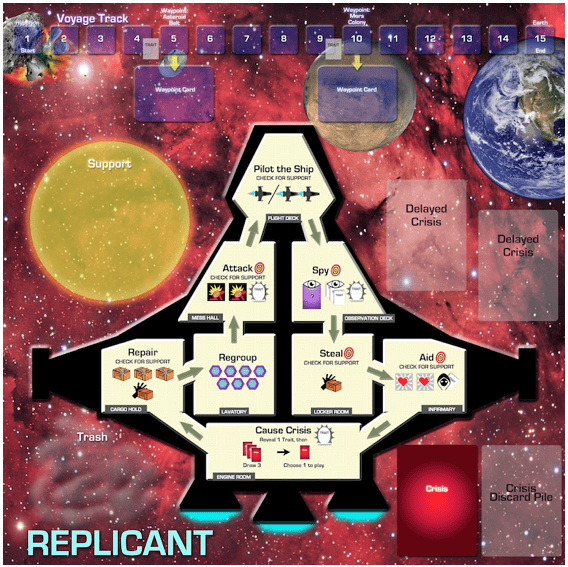 Replicant Board, v6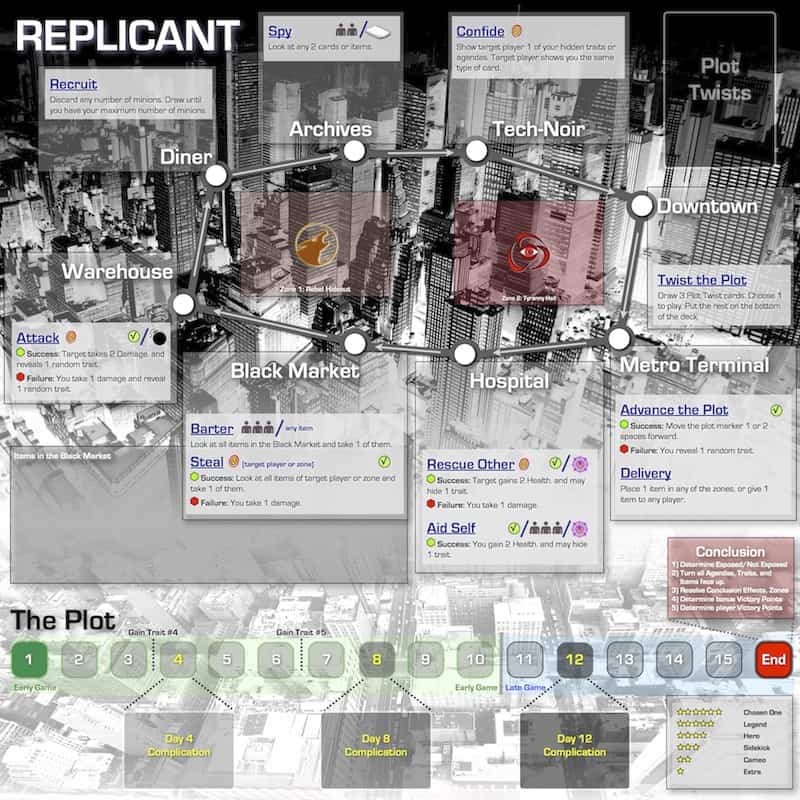 Current Replicant Board, v8 in Beta
When I started designing Replicant, I wanted to build a game that would support a large group of players, with the feel of a traitor game, but one in which there were no teams and no elimination. I decided early on that one of the core principles of the game would be that any number of players could win, and each player's win would not depend on another player losing. That said, I also wanted a system that puts players in conflict with one another while they work to accomplish their objectives.
To achieve these goals, I developed a system in which players have multiple, unique objectives, and they win the game by achieving a threshold of success. They do not need to achieve perfection. In Replicant beta 6, players need 3 victory points to win, out of 4 possible victory points. These victory points are earned as a result of various conditions at the end of the game (such as how injured players are, what items they have, whether or not their identity has been revealed, which players are dead, etc.). I call this system the Polylaurus System. In Latin, Laurus signifies triumph because of the Laurel crown placed upon a winner.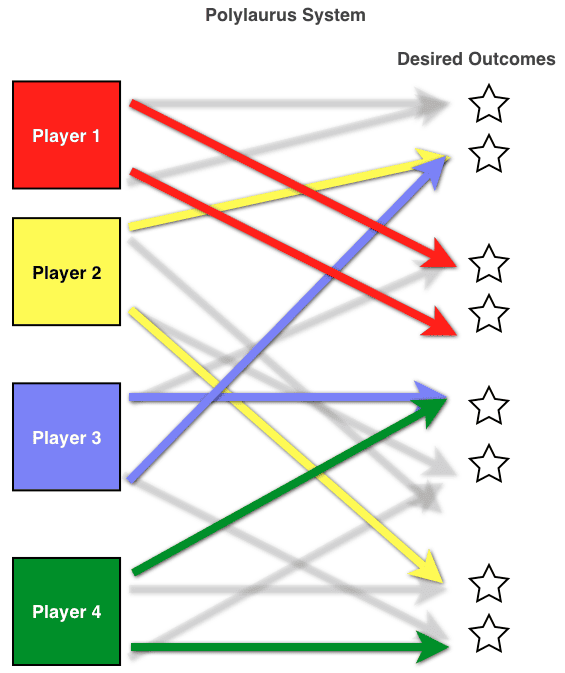 In the diagram above, the arrows represent the series of actions players take to pursue their goals. Crossing lines represent actions that may conflict or interfere with one another. Converging arrows represent shared goals. As you can see, players may be in conflict with one player to achieve one desired outcome, but may be in conflict with a different player over another outcome. Likewise, two given players may be aligned in one objective, and opposed in another.
The Polylaurus System in Replicant works because of two key factors: secrecy, and a voting system which allows all players to influence the outcome of actions. The limited knowledge players have about each other's goals prevents simple paths to victory and optimized game decisions. The net result is a game where players are always plotting, occasionally collaborating, and at other times turning against one another. In the end, depending on the agendas of the players and the actions they take, it is possible for any number of the players at the table to win. One, two, three, or even eight players can win a single game of Replicant.
I look forward to completing Replicant and getting the published version out there. I also look forward to seeing more games that allow any number of players to win.
The following two tabs change content below.
Designer of Stones of Fate and The Manhattan Project: Energy Empire
Game designer by night, and middle school science and pre-engineering teacher by day. He lives in Santa Maria California with his amazing wife and two unrealistically well-behaved children.
Latest posts by Luke Laurie (see all)