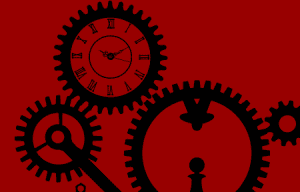 I'M THINKING OF A NUMBER FROM ONE TO TEN.
Seven, you say?
Most people do. But sorry, you're wrong.
Two?
Nope – guess again.
Five?
You're right!
—
The problem with this game is that I actually was thinking of seven. But I wanted the game to last a little bit longer, so I changed the number in my head to something else. Sorry, I guess that was cheating.
How can we redesign this game to eliminate the honor system? We need some way to confirm the truth. How about this:
I'LL WRITE IT ON A PIECE OF PAPER. OKAY. IT'S BETWEEN 1 AND 10. GUESS.
Seven again?
Hah. Good try. But no.
Three? No.
Eight? Nope.
Nine? No.
Two? No.
Four? No.
Oh wait! Darn it. Sorry. You guessed two? It was two. See it here? My bad.
Apparently the honor system is still a factor. Even though the truth could be validated, just the fact that I have the power to reveal or not reveal something unknown to you means that this hinges on some degree of honor. At the very least, human error or memory failure can compromise the whole game.
We run into the honor system most often in intrigue games, where the identity (or location) of one or more players is unknown. But broadly, any game that requires one player to hide information from a player during gameplay leans some degree on the honor system. It's a purely human aspect. Obviously there have been some very successful games that use the honor system in their mechanics. The intrigue that is fostered in a game where players keep information from each other is very interesting to play. I'm not saying to avoid the honor system in your own design.
However, when playing a game, we are slightly uncomfortable with the honor system, even if we are not playing with lily-livered, snot-wiping, mouth-breathing cheats. Why? Well, real life runs on the honor system. We can never be sure if the people with whom we're interacting are being forthcoming with information we need. A game is supposed to be an escape from the realities of life. Games provide an artificial, contrived system of rules that everyone knows and follows, and there is a clear winner and loser. As soon as we implement the need for an honor system, those lines become less clear.
I'm not even going to pretend to have an answer here, because I'm not convinced it's a problem in game design if it's done well. But I am interested in hearing your thoughts. For starters, what games have you played that rely on the honor system? Do you enjoy the element of the honor system in a game? Have you experienced a breakdown in the honor system that has compromised a game you were playing?
Come on. Be honest!