What are the essential tools in the League members' utility belts? Below are a few tips and tricks from members of the League of Gamemakers. Feel free to share your own thoughts below in the comments!
For designing prototype cards, boards, etc. I use a combination of iDraw and Adobe Photoshop Elements along with copious borrowing via Google Images since I am artistically challenged. I've occasionally whipped up a simulation in Python to work out some dice probabilities (see this post from Steve for some good info).
Designing at first can be writing just text on pieces of paper, cutting rough cards in temp sleeves and using placeholders of anything. I start with a pad of paper and sketch, list and doodle.
I also use Photoshop to type up basic cards. I know it's not the ideal layout tool, but by now it does almost everything, doesn't it? The positive side is that I know it well and it transitions fine to the end tool.
For finalizing cards, I move to into Photoshop more fully using scans of my doodles on my phone, or Google stock photos as Brad mentions. I use Illustrator to clean up scanned art and/or convert incoming raster images from the artist into vector.

For physical components, I shamelessly ransack my existing game collection as needed. For example, Mansions of Madness boards with a cover piece of paper make awesome and flexible rough board pieces.
Dominion cards from an old set are perfect fodder for study backs to sleeved paper slips.
Pandemic has lots of multi-color pawns. (Well, it does…)
For me it's a combination of existing game pieces, print-and-play, and POD.
I have a battered and faded set of tokens from the old Avalon Hill game, Civilization. There are plenty of them, in primary colors, and I use them in any place I need to mark something with a player color. I also use colored pawns as an alternate marker. I lucked out a couple years ago at my local flea market, and found a guy that just had tubs of random plastic game pieces for dirt cheap. I cleaned him out.
For playing cards, I like having full-sized cards, and I hate plastic sleeves. I found that printable sticky name-tags are the perfect size for this. I lay out my cards in Illustrator, print them on to sticky name cards, and then slap them on regular old playing cards that I bought at the 99 cent store. If there's not a lot of info on the cards, I print them two-up and cut the sticker sheets in half before applying. Similarly, I print round stickers from the office supply store and slap them on the wood chip tokens sold by The Game Crafter.
Finally, when I think I'm in the home stretch for a design, I just print a copy from a POD vendor. Even if I don't plan on using that vendor to actually publish the title, it's a good exercise to go through "what actually goes into my game".
Illustrator, Photoshop, and InDesign for me. Physical pieces are bought from The Game Crafter for the most part.
Software: Excel, Pages, Photoshop, Acrobat. A frequent design trick I use is snapping screen captures to quickly turn object-based drawings into graphic icons that I insert elsewhere. I print a lot on cardstock and full-sheet labels with a pretty solid though well-abused laser printer. I sleeve cards – usually I print the backs once, and then reprint faces of cards over and over. I've got quite a collection of bits, card sleeves, tokens, etc.
I get pieces often from an educational supply store, and cannibalize other under-used games. One of the most important pieces of hardware to have is a good paper cutter. Mine's a Swingline. And beverages.
Adobe Photoshop, Illustrator, and InDesign are among my must-have tools as a professional graphic designer for board games, but there's definitely a learning curve for those. Solid design is one of the things that has consistently made our prototypes a thousand times easier to playtest though, especially during the late stages and when pitching to publishers. Which is why we now offer graphic design as a service for people who don't want to have to bother!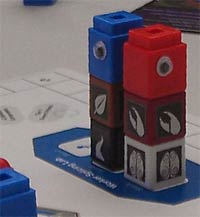 As far as physical bits and baubles, I made a whole post back in March that's definitely relevant to this. The best tools are anything from education stores. Those places have paper cutters, lamination services, random dice and money and counters and spinners, and they're usually cheap so teachers can afford a bunch.
Plus, googly eyes on your workers for your WP game? Perfection.
Brad designed Letter Tycoon (a word game for capitalists) which won the 2015 Mensa Select award, and the upcoming Rise of Tribes. He is currently in need of a time machine to address his idea vs. execution imbalance.
Latest posts by Brad Brooks (see all)