Hi all,
Thank you so much for reading/watching! We started the League of Gamemakers in 2014, and we've now celebrated 4 years of topics in design, development, publishing, gaming, mechanics, playtesting, prototyping, Kickstarter, reviews, interviews and much more!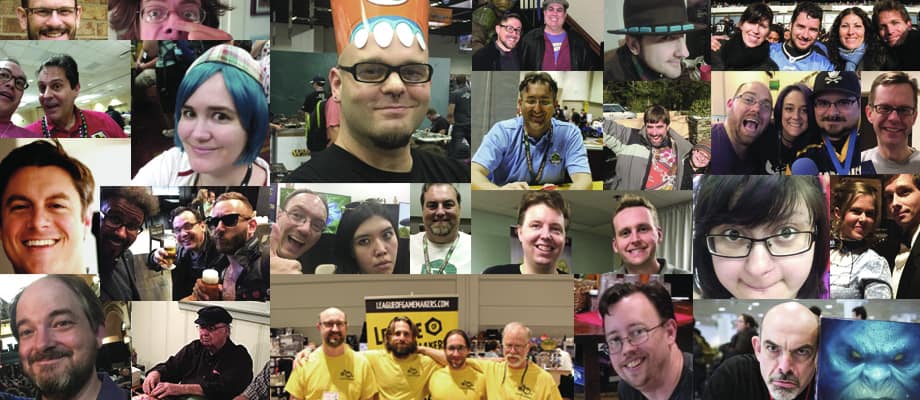 A LOOK AT 2017
As you know, 2017 was a different year for the League. After hundreds of posts, we departed from our regiment of 3 posts a week, and adopted a looser strategy, to balance life changes among us. Eduardo Baraf largely carried the torch for us with video content, while others of the League contributed when possible. Some of us found that our lessons learned turned into full time game work, and others of us changed industries or felt we had said what we needed to say in blogging. I myself meant to write a lot more (and still hope to!), but I found that developing a slate of games, fostering a protospiel/unpub group in Los Angeles, helping grow Breaking Games and bringing another Kickstarter to life was all I could handle.
I think a large part of why Ed was able to find the time is due to the medium he is using. Not to diminish the work involved, but in some ways, turning on a camera is different and there's a reason it's dominating content creation these days. It's less editable (at least in the streaming format), and as such, it is more organic and real. We found that we couldn't ask for all the hooks and connections to past posts on one hand, but on the other, we got a year full of valuable content from Ed. I want to thank Eduardo sincerely for all the great posts, and also to all the leaguers who took the time to post in 2017. (Teale, Christian, Scott, Brad and several guests).
SO, NOT A BLOG?
The biggest takeaway I think I have this year is that this is no longer a blog, per se. The League of Gamemakers is something else entirely. A community. The spirit involved, the cooperation of several indie gamemakers seeking to work together and bring together shared experiences in the industry – that's still here. At the same time the blog was made, we also made a private Facebook group. That backstage group was amazing. We also posted publicly – every blog post in designer and publisher forums (thanks to Luke for continuing to do this all 2017). Both of these places, off the blog walls were more of the "league" spirit. In private chat, we got the team dynamic, and in both private and public forums, we got deeper dives into topics, lively discussions and found that forcing people to come over to this website wasn't working for us, the readers and viewers. Ed, who posts many of his videos on youtube, has mentioned to me that as of 2018, he plans to keep going on great league topics, but will keep his content all over in that spot and not hosted at the league site per se. I understand this decision, and while I want the "blog" to be here for all the legacy content, we have to look at what shape the league concept will take on next.
League 2.0
So the league is more than just the composition of written posts, or video links. What we made is something special, but what is it, and how do we carry it on in a new way? Well, a few ideas about that:
1) The League of Gamemakers is all of us.
All gamemakers are welcome to be part of the discussion. Yes, you! Please join us! We'll still have our need for 'admin' agents, which will have moderator level access to blog, forums, etc, but dropping our restriction to "post x times per month" or even blog at all, we hope we can invite other gamemakers – experts in their own fields – to be part of the League of Gamemakers at large. We'll keep a not-so-secret handshake and cool badges at cons (wink!)
2) League of Gamemakers agents will contribute in their own ways.
Every contributor has a unique perspective and skill set. It may be that someone is a pro at social media and wants to take this role on for us, or Ed or others want to host videos – reviews, industry interviews or other content. It may be that someone wants to make killer protospiel or unpub kits, or run design contests, or be an active, daily part of our facebook forums. Whatever the passions of our individuals, these are the ways in which we will engage the design community and we will be open to new ways of allowing our agents to be who they want to be.
3) The League will continue
The best games are yet to be made, and the best version of the League of Gamemakers is still to be had. Will you join us in 2018?
The following two tabs change content below.
Peter eats games for breakfast! Founder of First Play LA, Squirmy Beast and League of Gamemakers, and Director of Development for Breaking Games. First published designs include What the Food?! and Nightmare Cove, and development credits include Letter Tycoon, Boomtown Bandits, Sparkle*Kitty and Rise of Tribes.
Latest posts by Peter Vaughan (see all)