A good sell sheet can be a key part of getting your game picked up by a publisher.
In this piece, I'll discuss these topics:
What is a Sell Sheet?
When do I need a Sell Sheet?
How do I make a Sell Sheet?
Examples of Sell Sheets
What is a Sell Sheet?
A sell sheet is a one-page document that is given to a publisher that includes exactly the right amount and kind of information a publisher needs to know whether they should take a closer look at a game, no more, and no less.
A sell sheet should:
Communicate core data about your game: duration, number of players, etc.
Include your name and contact information
Invoke the game's theme and marketability
Briefly describe the mechanics
Highlight special features
When do I need a Sell Sheet?
You have completed the design of your game. Your game mechanics are solid. You've done plenty of playtesting, and played the game with strangers. You've revised and refined your game to the point where it feels like it is complete, and not so much of a "work-in-progress." You're now ready to talk to publishers, make a pitch, and see if they'll turn your concept into a real product.
There are many ways to come into contact with publishers. Perhaps you'll be at a game convention where publishers may be present. You might be attending a publisher speed dating event, like the ones at Gencon hosted by James Mathe of Minion Games. Perhaps you're attending an Unpub event or a Protospiel like the upcoming "Celestispiel" in Fremont California. Or perhaps you plan to connect remotely through online networking, email, or perhaps submitting your game through the mail. The context in which you plan to encounter publishers may influence the content of your sell sheet.
Pro Tip: when transferring your sell sheet electronically, be sure to reduce the file size. For images, you can convert a png to jpeg and/or reduce resolution. For a pdf you can use a filter to reduce file size, or convert to png or jpeg and then reduce resolution. Your digital version can have a much smaller file size than your printed document. One sheet below was reduced from 30 Mb to 120 kb using a quartz filter! Keep your files under 2mb.
How do I Make a Sell Sheet?
The truth is, there are many ways to approach making a sell sheet, and there is no consensus on what elements are truly vital to a good sell sheet. Each game is different, and each publisher is looking for different things. In addition, sell sheets may be given to publishers in different contexts, so more or less information might be needed.
Rather than give you one singular approach to building the perfect sell sheet, instead I'll encourage you to pull wisdom from a variety of sources, look at some of the examples below, and draw from your own creativity and good judgement.
Jay Cormier and Sen-Foong Lim (designers of Belfort, Tortuga, and others) describe in detail their thoughts on building Sell Sheets on their blog "Inspiration to Publication." Jay Cormier writes, "Showing a clean looking Sales Sheet to a publisher immediately tells them that you are professional and you know what you're doing."
Andrew Federspiel of Knapsack Games also has a blog post on 10 Tips for Writing Sell Sheets for you. He advises, "Make Every Sentence a Selling Point."
Once you have a sell sheet, get other designers and publishers to take a look and get some feedback. Two of the best places to get feedback on your work are the Card and Board Game Designers' Guild on Facebook. and the Board Game Designers' Forum.
Examples of Sell Sheets
The sell sheets below are examples for you to look at and learn from. They were submitted voluntarily by their creators, and were not selected by any kind of criteria. You can see strengths and weaknesses in different approaches while you build your own sell sheets. Some of the documents had their file sizes reduced, so some images may not be high quality. Feel free to post links to your sell sheets in the comments section below.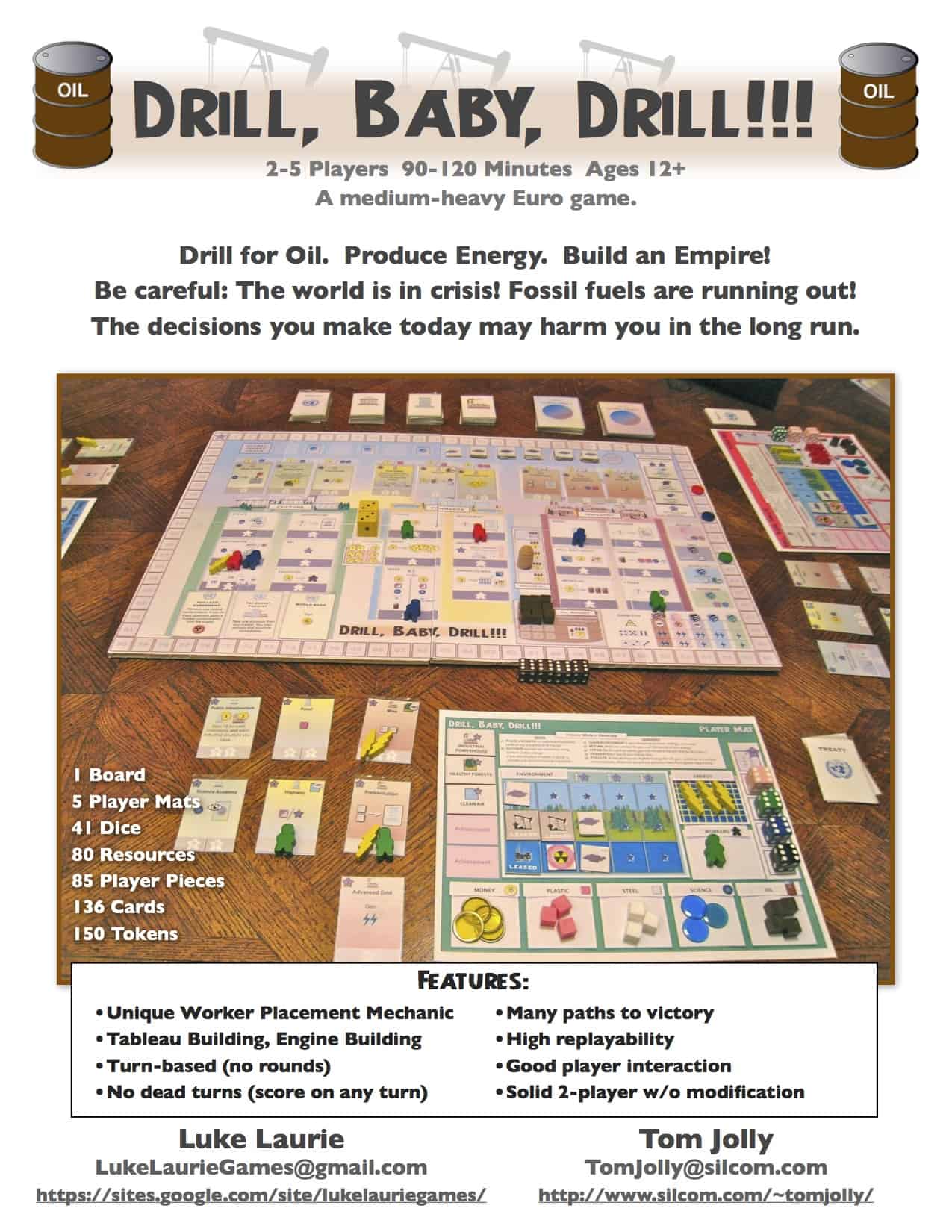 UPDATE: "Drill, Baby, Drill" was signed my Minion Games after Gencon 2014, and has become "The Manhattan Project: Energy Empire." Look for this game to be published in 2016!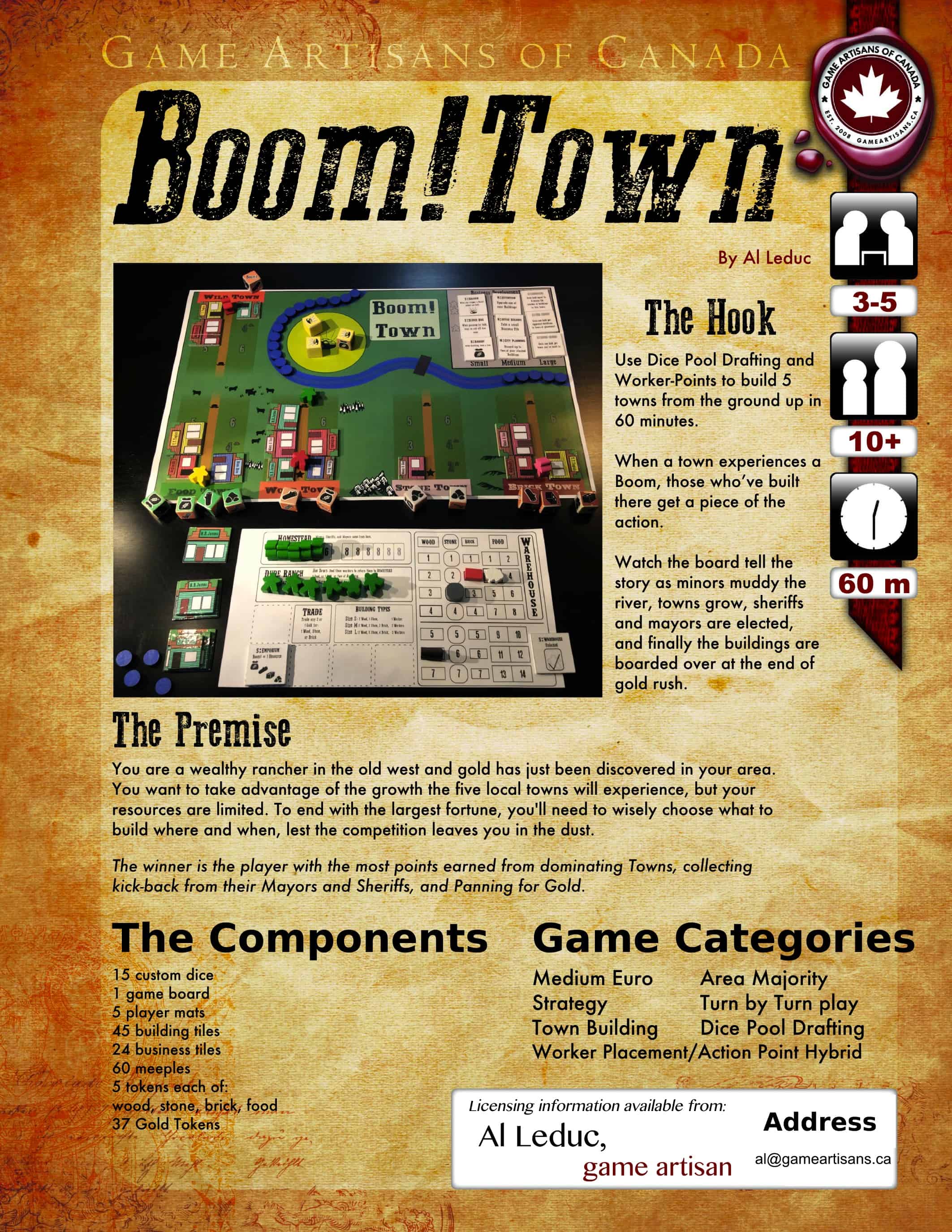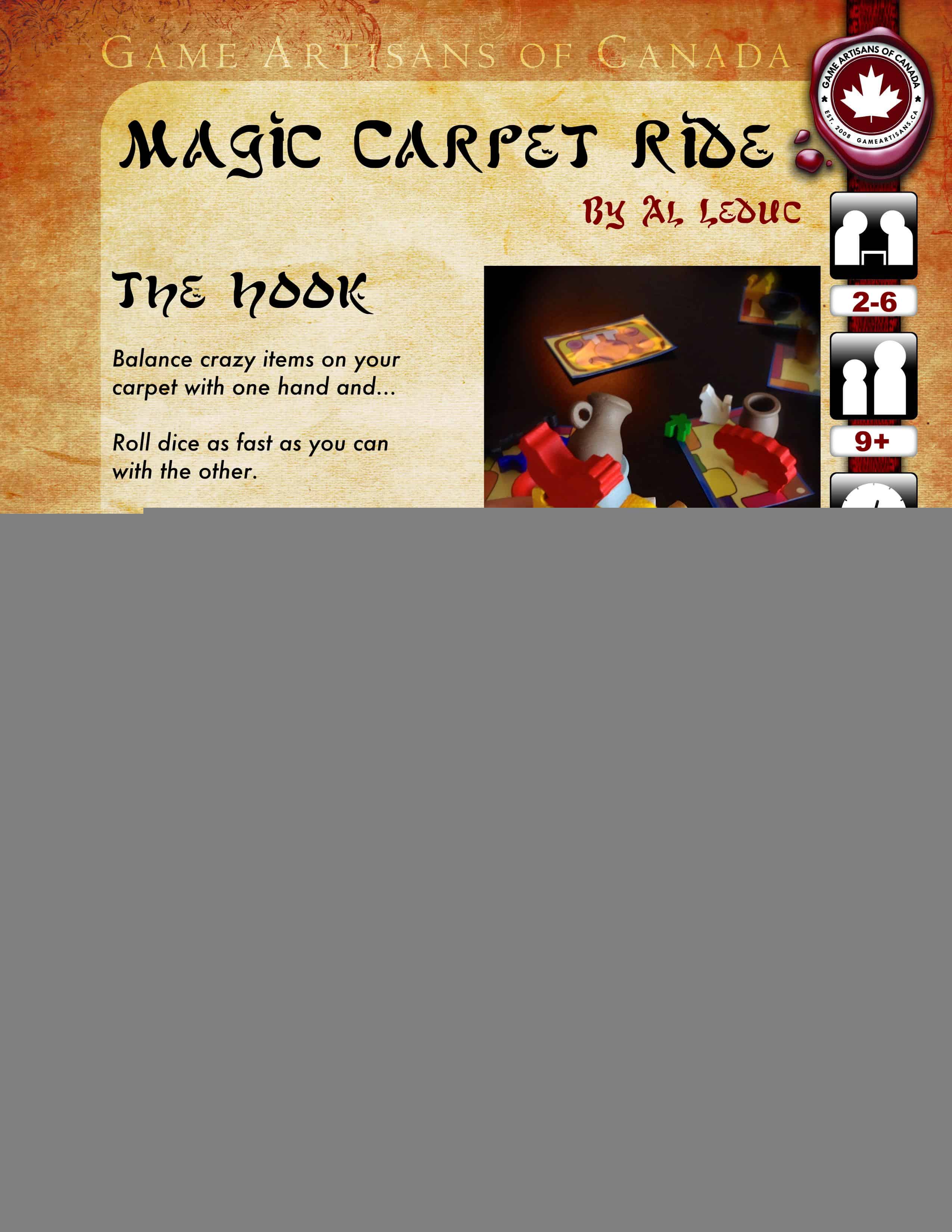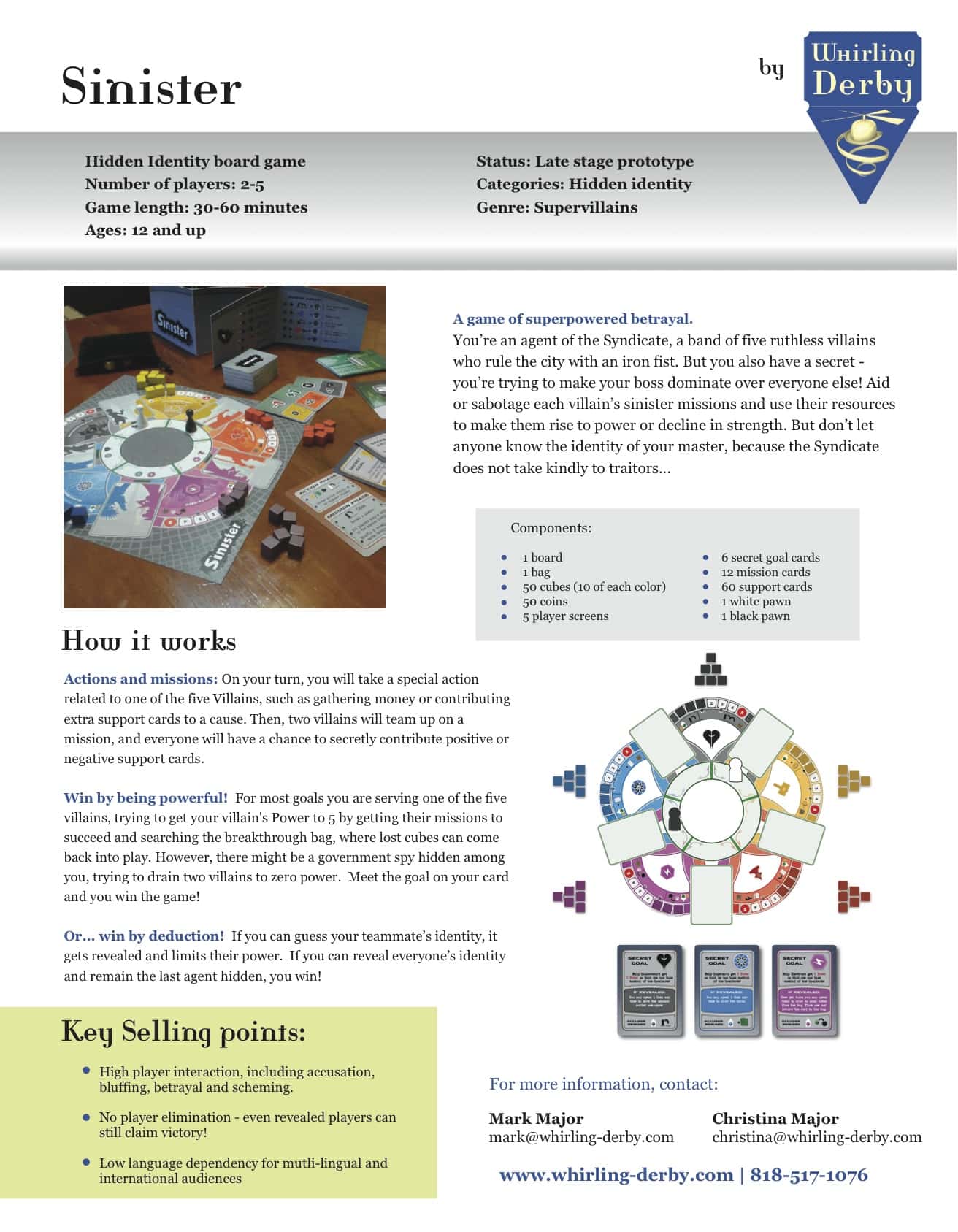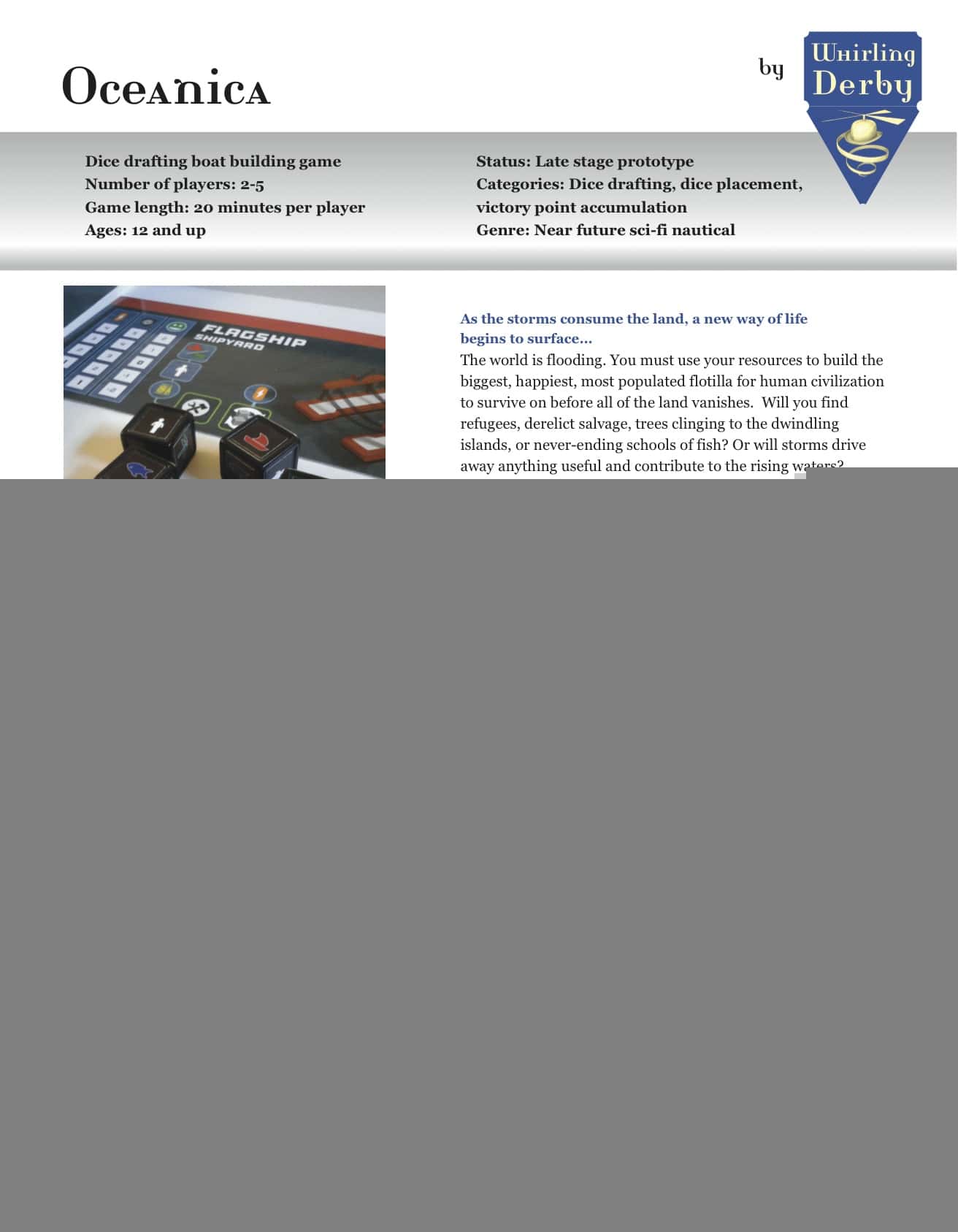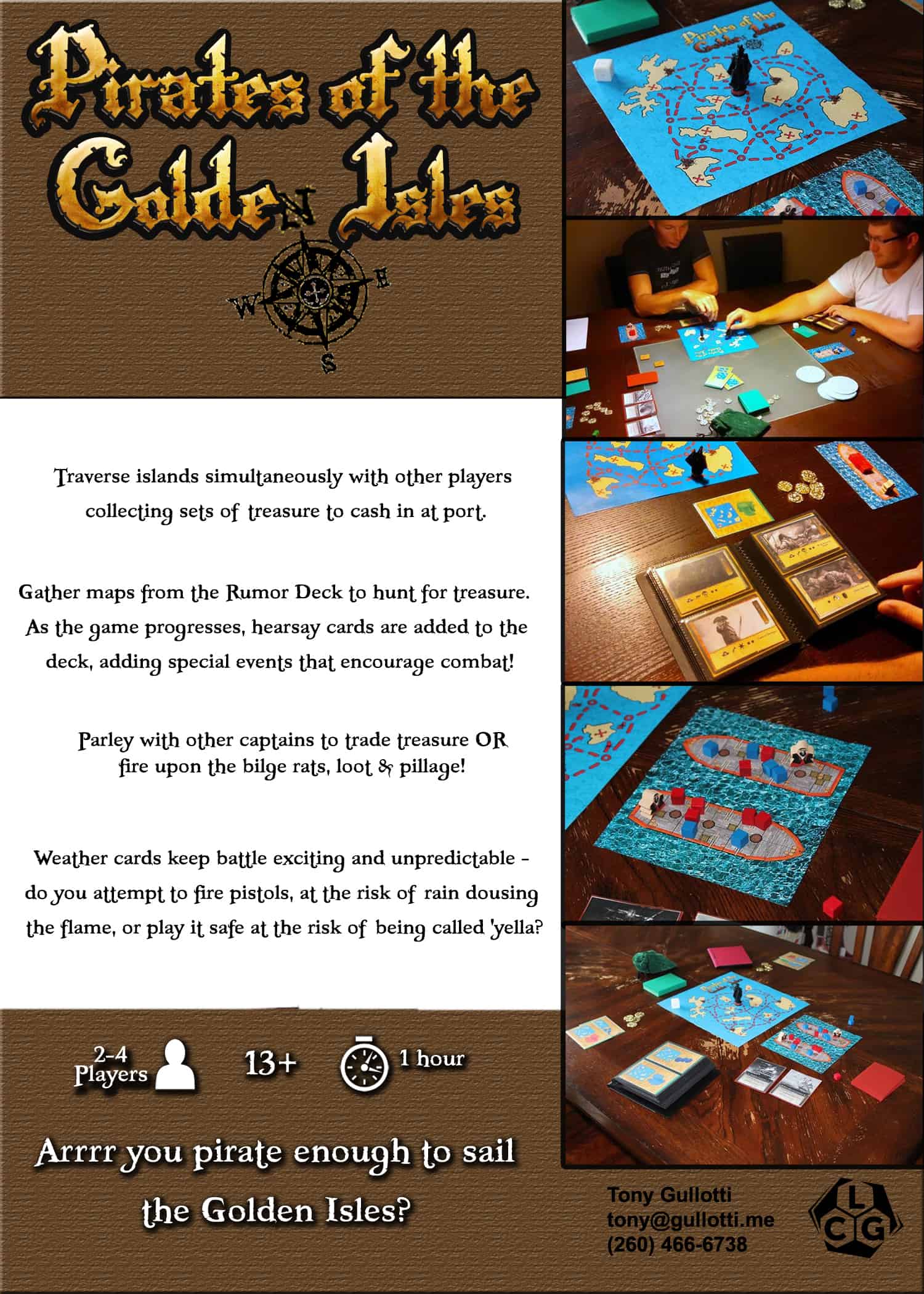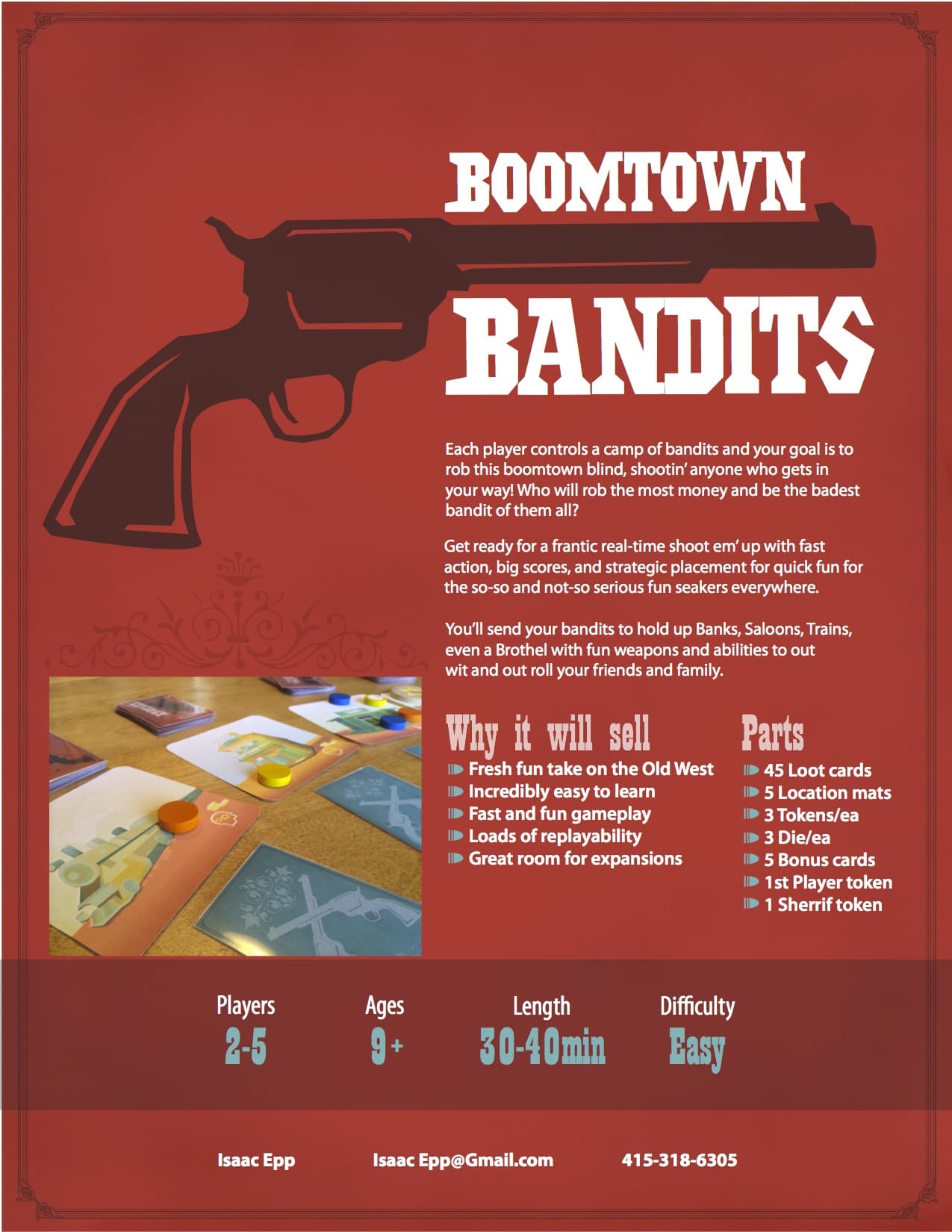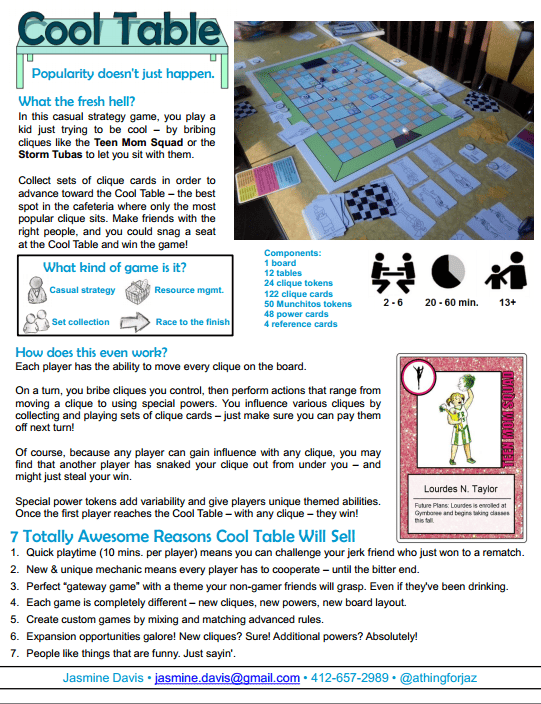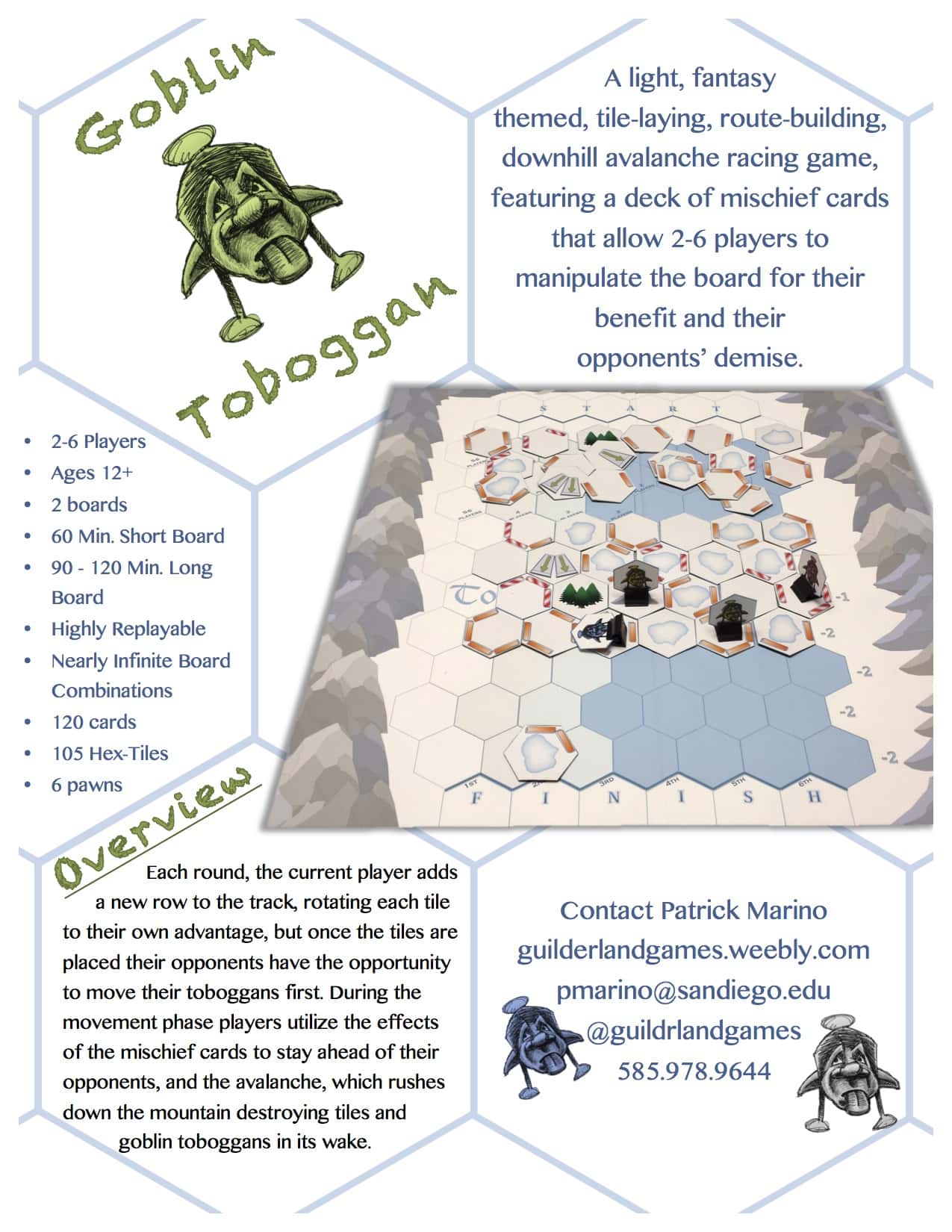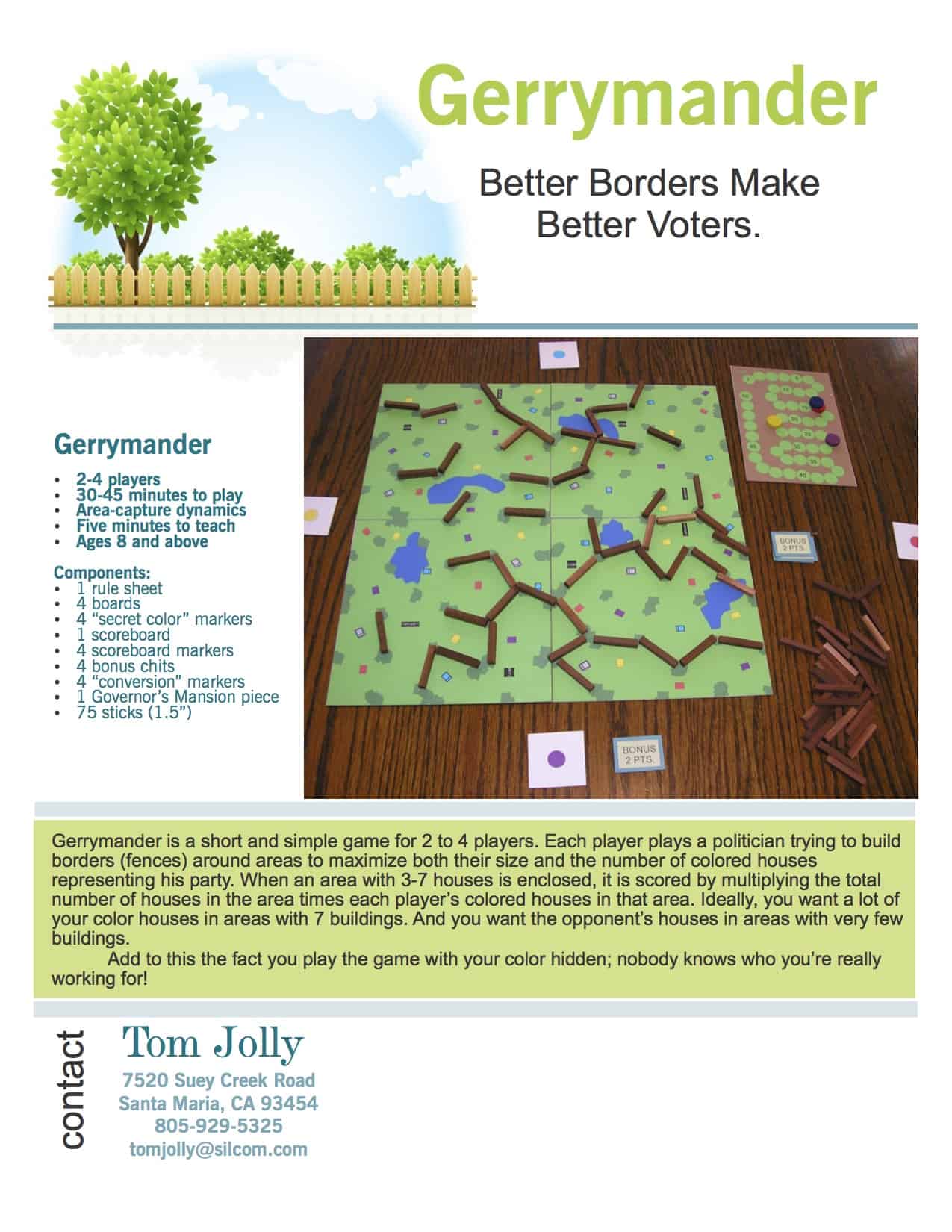 The following two tabs change content below.
Designer of Stones of Fate and The Manhattan Project: Energy Empire
Game designer by night, and middle school science and pre-engineering teacher by day. He lives in Santa Maria California with his amazing wife and two unrealistically well-behaved children.
Latest posts by Luke Laurie (see all)