This post is a resource for designers and gamemakers looking for events to:

Playtest Games
Improve Design Skills
Make Connections in the Industry
Get Face Time with Prospective Publishers
You may find that many of these events occur annually or more than once a year, so don't despair if you have already missed an opportunity, another is right around the corner. Not included on the list below are regional designer meet ups. There are many of these, and perhaps another feature will cover them. If you know of additional large-scale events, or if you have additional information about the events listed, please post information and appropriate links in the comments below. For up-to-date news on events for designers, be sure to follow the League of Gamemakers on Twitter and Facebook.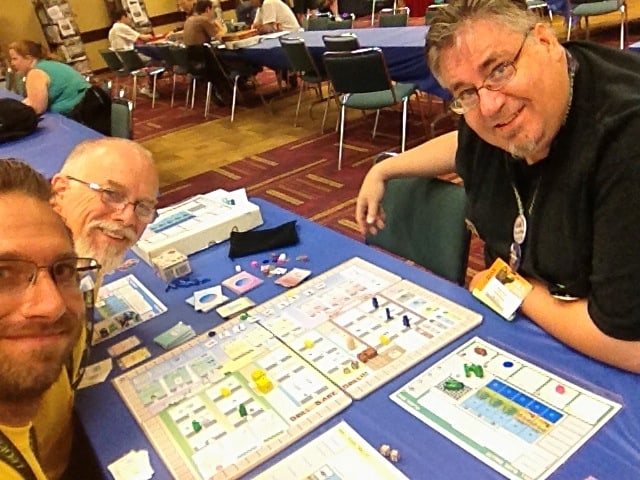 Luke Laurie and Tom Jolly showing "Drill, Baby, Drill" to James Mathe (Minion Games) at Gencon 2014 – Minion signed the game and it will be released as "The Manhattan Project: Energy Empire"

About Unpubs and Protospiels
If you've never attended an Unpub or Protospiel don't be frightened. Peter Vaughan wrote a guide to help you: "Do You Protospiel?" These events allow designers to bring their tabletop game prototypes to playtest with other designers, industry professionals, and others who just like to playtest games. Participants will get a lot of feedback on their games, and will get to learn from other professionals. Occasionally, during these events, a publisher will find a game they really like, and the next thing you know, that game is on its way to being published!
Pay attention to deadlines and signup requirements for the event you hope to attend, and be sure to adhere to expected conduct guidelines. In general: Playtest other designers' games at least as much as they play yours, and don't hog the tables if they're unassigned!

Kelsey Domeny of Two Penny Games shows "Epoch Rift" to Cosmic Wombat Games at the publisher speed dating event at Gencon 2014.
About Publisher Speed Dating
Many members of the League have taken part in publisher speed dating events, some as designers, some as publishers, a few as both. These events allow designers to get just a few minutes to pitch their games to several publishers in a lightning-fast format. Previous posts on the League of Gamemakers have described these events, and how one should prepare. (See Speed Dating Part 1 and Part 2, and How to Build a Sell Sheet). This year, there are plans to have publisher speed dating events at GAMA Trade Show, Origins, Gencon, and BGG.con.
James Mathe, President of Minion Development Corporation (Minion Games), has been running and promoting these events at various game conventions for several years. Probably the best way to get updates on these events is to join the Card & Board Game Designers Guild on Facebook, a group run by Mathe that now has over 5000 members!
Spring Events 2015
Summer Events 2015
Fall Events 2015
Winter Events 2015
Do you have more information about these or other events? Do you have some favorite events you want to talk about? Leave your comments below! I'll update this page as new information comes in.
The following two tabs change content below.
Designer of Stones of Fate and The Manhattan Project: Energy Empire
Game designer by night, and middle school science and pre-engineering teacher by day. He lives in Santa Maria California with his amazing wife and two unrealistically well-behaved children.
Latest posts by Luke Laurie (see all)