For some people, summer vacation in California brings to mind sunny beaches, fun trips to Disneyland, or sightseeing in Hollywood or San Francisco. But if you're like us and prefer a round of Viticulture with your Napa Valley wine tasting, we've got you covered. Here's our Gaming Vacation Guide to the West Coast of the League's favorite gaming hotspots to wrap up your summer:
Dining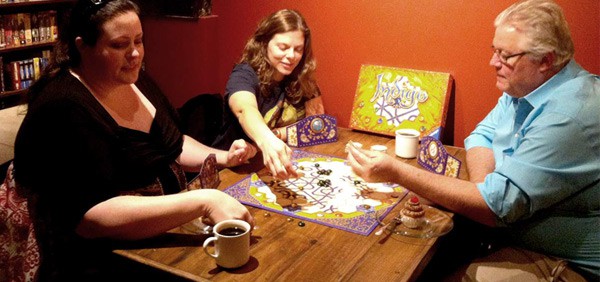 GameHäus Cafe
Glendale, CA
Boasting tasty food and a six-hundred-title board game library, this incredible restaurant includes everything from Connect Four to Carcassone. No matter what game you're looking to try, you're sure to find a childhood classic or new favorite in its extensive shelves. $5 cover fee
Come here for the: Delicious Food, Relaxed Atmosphere, Vast Game Library
Shopping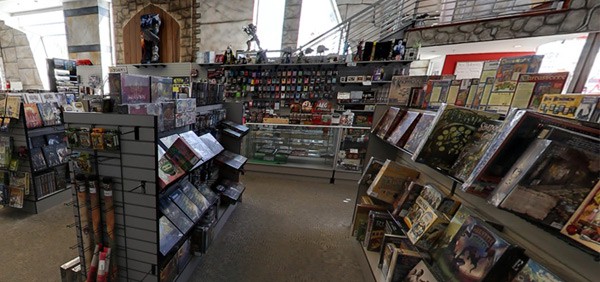 Game Kastle
Santa Clara, CA
Also the host of the UnPub Protospiel back in May, this landmark of gaming is not to be missed! Check out the massive list of daily scheduled events and browse for your favorite titles in this impressive store.
Come here for the: Strategy Games, War Games, Open Gaming Space
Game Empire
Pasadena, CA and San Diego, CA
With an airy demo space and great employee recommendations, Game Empire has two locations in Southern California for your gaming fix! Catch the SoCalPlaytesters in action once a month or get involved in their tournaments.
Come here for the: Strategy Games, Party Games, Classic Games, Open Gaming Space
Seth's Games and Anime
Ventura, CA
Seth has a great selection, a friendly staff and hosts regular open gaming events in the Ventura area, and occasionally does game trade-ins and great deals. Look for Mark Major's Jupiter Rescue on the shelf here!
Come here for the: Great Bargains, Awesome Staff, Strategy Games, Open Gaming Space
Emerald Knights Comics and Games
Burbank, CA
Just like the name says, Emerald Knights is a mix of both comics and games which is just enough board games to satisfy most game night fixes. They can order you anything they don't have, and are very friendly and helpful. Their strength is in an inviting playtesting space – an upstairs area is great for first time players and designers. Emerald Knights is a friend of indie publishers – they often hold open houses and welcomed the What the Food?! launch party.
Come here for the: Indie Games, Great Selection, Open Gaming Space
Leisure Time Games
Santa Maria, CA
Drop by and see Ken in the Santa Maria Town Center Mall. He holds frequent events including CCG and miniatures tournaments.
Come here for the: Hard to find games by Tom Jolly!
Games of Berkeley
Berkeley, CA
One of the best game stores in the Bay Area, Games of Berkeley has a huge selection of games and accessories of all kinds, but they still have a personal touch. Throughout the store one can find "staff picks" labeled on the shelves. They hold frequent events of all kinds.
Come here for the: The game you're looking for!
Groups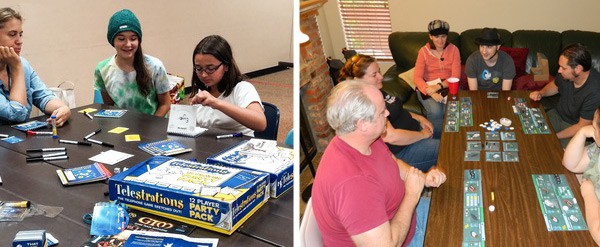 Simi Valley Board Games Meetup
Simi Valley, CA
(Fourth Saturday of every month)
This family-friendly meetup is hosted by the Simi Valley Library and draws local crowds of all ages. Enjoy a round of Telestrations, match wits with Game of Thrones, or learn a new game!
Come here for the: Family-Friendly Games, Strategy Games, Party Games, Snacks
Ventura County Strategy Boardgamers
Ventura County, CA
(ongoing)
Join the Ventura County Strategy Boardgamers with ongoing events almost every night of the week and learn new games from experienced players! Favorites include Battlestar Galactica, Eminent Domain, Splendor, and much much more!
Come here for the: Cylon-Friendly Atmosphere, Strategy Games, Welcoming Locals
Cal Poly Game Theory
San Luis Obispo, CA
(Fridays, 5-10)
This campus group is the place to be if you love playing games and love hanging out with other gamers.
Come here for the: Strategy Games, Role Playing Games
San Luis Obispo Board Games Group
San Luis Obispo, CA
(ongoing)
For people that want the opportunity to play a variety of tabletop games — German/Euro style, card games, party games, tile games, trivia games, and hybrid games. Some of the games in the collection include titles like: Agricola, Settlers of Catan, Dominion, Word on the Street, Race for the Galaxy, Maori, Carcassonne, and Small World. It does not matter if you have never played a game or do not recall the rules, come to learn or come to refresh your memory.
Come here for the: Chance to beat Jeff Cornelius at Lords of Vegas
Attractions
San Diego Comic Con
San Diego, CA
(July 24-27)
If you're making your way out to the original Geek Mecca of Conventions, stop by the (slighly less crowded) open gaming section of the convention to demo new and upcoming games.
Come here for the: Demo of Jupiter Rescue with Mark Major (Thursday and Friday from 3-5 in Mezzanine Room 15AB)
CelestiCon | (Facebook Group)
Fremont, CA
(August 29 – September 1)
Not only is this a great destination for Bay Area fun, but this year Celesticon is also a Protospiel! Catch a demo with Luke Laurie of his new and upcoming titles like Stones of Fate and Drill Baby Drill!
Come here for the: Celestispiel tabletop game playtesting event
Strategicon
Los Angeles, CA
(August 29 – September 1)
This three-time-a-year Los Angelean favorite is a great place to grab a table, compete in tournaments, enjoy an ever-growing vendor section, and find new and exciting games.
Come here for the: Artemis Spaceship Bridge Simulator
Pacificon Game Expo
Santa Clara, CA
(August 29 – September 1)
Catch some great RP games, and enjoy a relaxing Labor Day weekend in beautiful Central California!
Come here for the: Ars Victor Tournament with Stephen DeBaun of Trip West Games
You be the tour guide!
What are your favorite gaming locales to take geeky sightseeing visitors? Any fun places you've visited? Let us know in the comments!
The following two tabs change content below.
Latest posts by Christina Major (see all)