What an amazing playtesting event!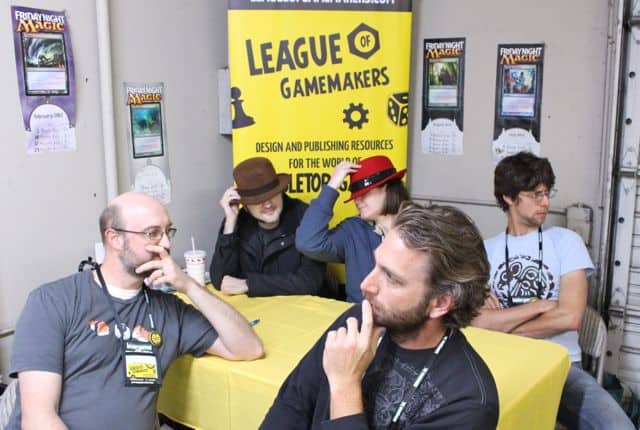 Holy smokes! There's so much to say, but I'll keep it short and let pictures (and videos) do most of the talking. Five Members of the League of Gamemakers were in attendance: Teale Fristo, Mark Major, Christina Major, Scott Caputo, and myself, Luke Laurie. We were really happy to get to play one another's games and have great interactions with our friends in the game design and publishing community. There were a TON of designers, and a TON of games through the entire weekend. The biggest downside was not getting to play them all!
Unpub Protospiel San Jose 2015 was held at Game Kastle in Santa Clara, and completely took over their vast playing rooms for three consecutive days. The event was well-run by Jeremy Commandeur and his team, and featured Kickstarter pre-registration, food and snacks throughout, an exciting design contest coordinated by the League's own Teale Fristo, seminars with industry professionals, ample playing space, and abundant playtesters. Several awesome sponsors, including Bezier Games, the League of Gamemakers, and several others, helped pay for the food, and numerous sponsors donated prizes. The host store was incredibly accommodating, and even carried games designed by the attendees.
If you are a Bay Area or Northern California tabletop game designer or publisher, then you were there, or you should have been! There are way too many people to tag and link, so feel free to post links to the games you brought and discuss the games you played in the comments below. (That's right – go ahead and share your game links below!)
The Pictures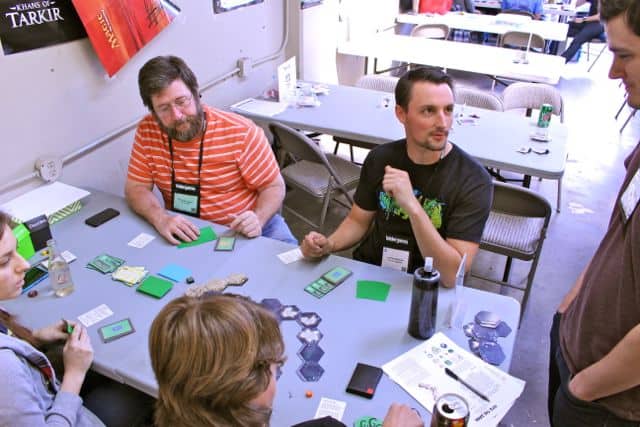 Thanks to Brian Henk for posting!
"Kickstarter Panel"
Panelists: Jeremy Commandeur, Brian Henk, Teale Fristoe, Aldo Ghiozzi, and hosted by Richard Bliss
"Tabletop Design and Publishing"
Panelists: Teale Fristoe, Chris Castagnetto, Jeremy Commandeur, Brian Henk, and hosted by Grant Rodiek
The next big playtesting event will be Celestispiel at Celesticon on Labor Day weekend. Hope to see you there!
If you'd like to see more photos from this event, check out our Facebook page: https://www.facebook.com/leagueofgamemakers
Do you have something to share about the event? Are you in any of these pictures? Do you have links related to Protospiel San Jose? Post them below!
The following two tabs change content below.
Designer of Stones of Fate and The Manhattan Project: Energy Empire
Game designer by night, and middle school science and pre-engineering teacher by day. He lives in Santa Maria California with his amazing wife and two unrealistically well-behaved children.
Latest posts by Luke Laurie (see all)