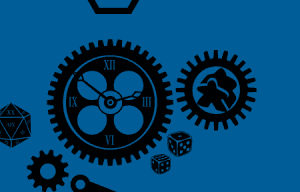 In your game group, do you know the guy or gal who picks up the room tile in Betrayal at House on the Hill and reads it out loud, then sets in on the board and asks the player whose turn it is where they'd like to place it? Do they do this for each and every player?
Similarly, do they hold the common deck and deal cards to players, rather than letting those players draw cards for themselves?
INTRODUCING THE PUPPET MASTER
This person is something different from an Alpha Gamer™, but similar – the player who steals "fun" from the other players, who hoards it all for themselves. I think of this player as a "Puppet Master", a player who insists on being in control of the game state and components, who has to touch every thing that changes hands or moves on the game board, and who absolutely, positively, can't let you draw cards for yourself.
DISCOVERY
"Discovery" as a game concept usually refers to information that players get, or events that happen in the game, that are random and surprising. For many gamers, myself included, discovery in gaming is one of the core "fun" things that games provide. When a "Puppet Master" reads a card out loud instead of letting a player do it, or flips over a tile instead of physically allowing the appropriate player to do it, precious moments of discovery are lost.
Imagine receiving a gift with a big bow and a beautiful card on it. Just as you prepare to open it, your friend steps in, rips off the wrapping paper, and tells you what the gift is while handing it to you. Would you feel robbed of that moment, the surprise of opening the present, and the physical pleasure of removing the wrapping paper and discovering what it hides?
PLAYER AUTONOMY
I think of this as "Player Autonomy":
A GAME PLAYER'S RIGHT TO MOVE PIECES, DRAW CARDS, AND GENERALLY RESOLVE GAME STATES AND MAKE CHOICES ON THEIR OWN, WITHOUT OUTSIDE ASSISTANCE (UNLESS REQUESTED).
The more I demo games in public and host game events, the more I notice folks violating the autonomy of other players, including myself.
It always bothers me, as it feels like somebody is "stealing" fun from me during the game, which leads to a negative experience in an otherwise positive environment. While holding a door open for a person in real life might be a polite thing to do, in the magic circle I can get the door for myself! (Especially if it leads to the next room in a dungeon.)
Ironically, I am one of the most active "Puppet Masters" I know, and after talking with a bunch of other designer friends, it's a common thing for the hobby. A few folks said it's a result of doing so many game demos, and having to keep a game flowing in front of folks who likely aren't entirely invested, or who aren't sure how to maintain the game. Once I decided to write about this, I almost immediately became more aware of my own need for control at the game table, and how I was taking that control – the autonomy – from other players.
DISCUSS!
If you're guilty of this, perhaps reading about it is enough to make you aware of it. Do you feel like you need to change?
Or do you think it's valuable to have a player at the table who controls the flow of the game, player autonomy be damned?
Post your response in the comments, and let's have a discussion!