I started a public Facebook group yesterday, Breaking Games Backstage. It's been a fun time setting it up, and we're off to a great start with lots of chat. I got the idea from Luke Laurie, who helps run the Manhattan Project Games Facebook group with James Mathe.
I love this industry because ideas are shared freely and advice, collaboration, and inspiration – particularly in designer circles – is the default.
On the Breaking Games Facebook group, I asked our designers to share about their projects, and Jeff Johnston (designer of MoonQuake Escape!) told a story about one of my favorite parts of the game making process – when someone finds your game and really enjoys it, and appreciates you for sharing it with them. Jeff wrote:
On the last day, with my energy flagging but realizing that for many people this is their first and only day so trying to keep up the pace, a couple returns to the booth. They'd been given one of Gamewright's Sneaky Cards (a game concept I LOVE!) that said "Give this card to someone who made you smile." They wanted me to have it. Nice moment, and then I was able to pass it along later that day.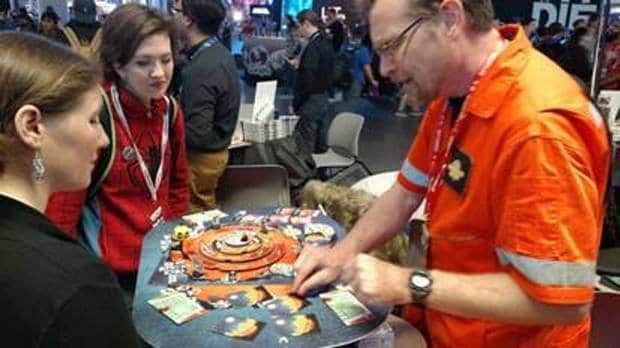 Jeff said, and I agree, "just a small moment, but exactly why I'm in this hobby and I love it so much."
Now I am inspired. Not just by Jeff, and moments like this, but by also by these Sneaky Cards (awesome idea Gamewright!). So from a forum to a designer to a blog post, here is my idea for today, for all of us:
Gamemaker Play it Forward: Gamemakers!
Let's hear a story about who inspired you in the game industry

Tell us how someone helped you with a design, illustration, development or publishing question.

Comment if you have a story to share about a game maker who made you a better game maker!
We'll make it a new Play it Forward Sneaky Card variant in the red category, connect.
After you share your awesome story about a mentor or friend in this process, let's tell them about it, shouting it out here and on social media. Perhaps they will also mention a gamemaker inspiration here on the blog, and we'll see other connections beyond our own!
The following two tabs change content below.
Peter eats games for breakfast! Founder of First Play LA, Squirmy Beast and League of Gamemakers, and Director of Development for Breaking Games. First published designs include What the Food?! and Nightmare Cove, and development credits include Letter Tycoon, Boomtown Bandits, Sparkle*Kitty and Rise of Tribes.
Latest posts by Peter Vaughan (see all)