8 years ago, my newlywed wife, Melissa, surprised me with a trip to GenCon for my birthday. It was a truly amazing gift.

My first published game, Kachina, was being released at GenCon by Bucephalus Games. Our honeymoon had been only a month earlier, so the GenCon trip was like an extension of our honeymoon. Melissa loves to game as much as I do, so we loved demoing and trying many new games.
Plus, there were many wackly moments that still stick with us. Like when a crowd of gamers literally cheered like they were at a rock concert when the Mayfair workers lifted up a deluxe Catan game as the prize for a raffle. Like when the Wits n' Wagers game show organizers kept on singing "These are a few of our favorite things…" even as fire alarms were blaring and crowds of people were exiting the convention center. Like when I caught famed game designer, Reiner Knizia, buying a copy of my game! No joke.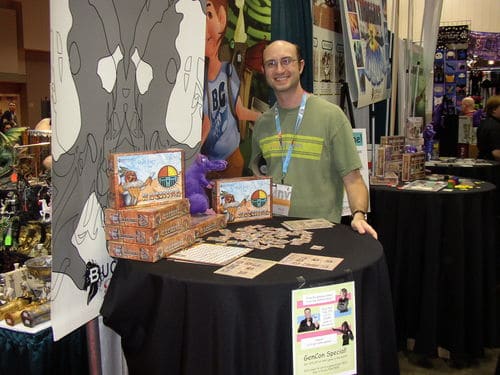 Now, after 8 years, I am returning to GenCon, this time with my wife and six-year old son who also loves to game. This time I am going to the convention to promote Whistle Stop, being released by Bezier Games, and I am also bringing several prototypes to pitch to publishers, one of which I am doing in double time, but more on that in a future post.
To say I am excited is an understatement, but I am in awe at how much has changed in the board game industry in those 8 years.
According to its own numbers, GenCon has grown in attendance from 27,900 to 60,819 unique attendees, a staggering 218% increase!
On BoardGameGeek.com, the number of new games on W. Eric Martin's GenCon 2017 Preview is currently at 449 games. His GenCon 2012 Preview (I believe the first time he did this list) had 172 new games on it. That's an increase of 261%. The number of publishers on his GenCon 2017 Preview is 168 publishers while the number of publishers on the GenCon 2012 preview is 92, an increase of 183%. I am comparing 2012 verses 2017, so the actual increase from 2009 is probably even higher.
Back in 2009, the Kickstarter craze for board games had not started yet. Alien Frontiers had not been released. There was no Stonemaier Games. The iOS versions of popular board games had not been released yet. Dominion was still rolling out in 2009, so the deck-building mania was in its infancy. Pandemic was still a new game, so cooperative games were a new trend. There was no Kennerspiel de Jahres (that started in 2011). BoardGameGeek also grew up during this time, likely doubling its number of users.
BGG founder Scott Alden has said that the number of BoardGameGeek visits was 2.4 million in December 2011 verses 4.3 million in December 2016, a 179% increase.
The Dice Tower was still being run out of South Korea in 2009!
From a game designer point of you, all of this increase in publishers and released games means there has also been an increase in the number of game designers trying to get prototypes published. In 2009, I believe there was only one Protospiel event in all of the US. Now there is a Protospiel-like event at every major convention and several stand-alone Protospiels all around the country. There are more resources, places like the League of Gamemakers, but many others too such as Cardboard Edison and Gamecrafter. I am excited by all of this increase in board game energy, but it's also sobering to know how competitive it's become to even get a meeting with a publisher. Even if one gets a game published, there are so many games being published, it's harder to get noticed and punch through all of the noise.
So, what are my goals for my return trip to GenCon?
Promote Whistle Stop

As I write this post, Whistle Stop is currently in the top 10 anticipated games for GenCon according to the BGG GenCon Preview.

I am excited by all of this attention, but it's also hard to fathom. I look forward to talking to various media and sitting down with players. In the end, I hope I've designed a game that people enjoy playing, but I will have to wait and see how it will be received by the larger gaming community.


Pitch New Games

Since I will be at GenCon, I figure it will be a great opportunity to pitch prototypes to publishers since all of the major publishers will be there. I tried to get into the GenCon Publisher Speed Dating Event, but I did not make the cut. I must admit art and graphic design are not my strong suit, so I know my sell sheet did not look as good as many of the others. But I've been busy setting up meetings, so as if this writing I have 7 publisher pitch meetings. I'm still scrambling to make last minute changes on my three games, so I hope I am ready. It will be interesting to talk with such a variety of publishers from all around the world (including the UK, France and Spain!). I hope to share my experiences in a future post.


Have Fun

It will be a grace to have my wife and son with me in this adventure, so I hope to play and demo games with them as much as I can. I've tried to keep my Thursday open for family time. Who knows what wacky and crazy things we will see and remember 8 years from now?

Just like everyone else, we have our eye on a few games such as Sagrada and Pandemic Legacy Season 2. Plus, I hope to meet many other people whom I have only seen through social media or listened to their podcasts. I definitely want to keep making connections and friends in the board game community. It's a fun place to be.
Are you going to GenCon? What are your plans? The League of Gamemakers wants to know.
The following two tabs change content below.
Scott Caputo
Scott Caputo loves to get creative: doubling up on board games and poems. His publishing credits include Völuspá, Kachina, and the forthcoming, Whistle Stop. By day, he manages a team of casino game designers and by night, he gets soundly beaten at board games by his wife. With her help, he's busy raising two young boys to be total board game nerds.
Latest posts by Scott Caputo (see all)