Your challenge: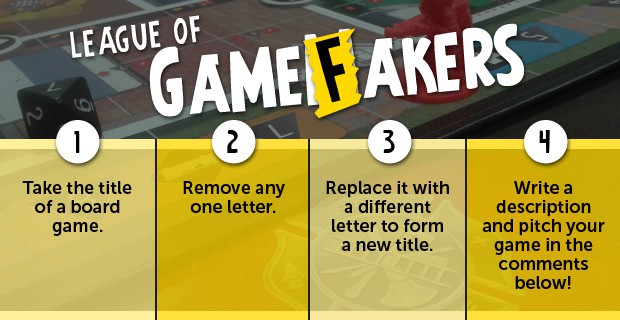 Take the title of a board game.
Remove any one letter.
Replace it with a different letter to form a new title.
Write a description and pitch your game in the comments below!
For example…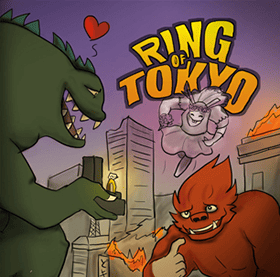 R

ing of Tokyo
A proposal of monster proportions! Female counterparts of legendary destructive beasts attempt to woo and win the affection of their tyrant beaus. Will the beast drop a knee? Or just drop a skyscraper? Which pair will establish a reign of fear until death do they part? Find out in Ring of Tokyo!
Sm

e

llworld
Unique micro-kingdoms of odors collide in a struggle for control over the human nose! Which class/race combination will be the dominant odor? Lingering Coffee? Pungent Musk? Stifling New Car? Deluxe Edition includes scratch-and-sniff race tokens!
Love L

i

tter
The princess received your love note, but she accidentally threw it away before she could read it! Employ various ranks of waste management engineers to search the landfill and retrieve the letter.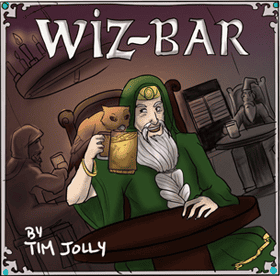 Wiz

B

ar
(by the League of GameFakers' own Tim Jolly)
After a long day of sorcery and treasure hunting, all a wizard wants is a nice cold brewski to end the day. As the barkeep at the Arcane Pub, it's your job to conjure enough drinks to fulfill the orders of the mystic patrons.
P

icket to Ride
When headlines tell of developing events that oppose your political and social views, send a team of picketers by rail to de-rail the progress of the evil organization. When more picket-able events arise, will you send your team in force to one city at a time, or will you divide and conquer? "What do we want? This game! When do we want it? NOW!"
L

ice and Mystics
An evil sorceress' curse has turned the king's faithful servants into lice, now doomed to fight for survival on the king's own scalp. Battle side-by-side through an epic campaign as you encounter Mites, Shampoo, and the dreaded Fine-Toothed-Comb! Escape the Follicle Forest, reverse the curse, and save the kingdom!
Vit

a

culture
In Vitaculture, players take the role of health-nut entrepreneurs who have grand aspirations of becoming the nation's leading manufacturer of vitamins. Determine the most effective placements of your workers – Research & Development, Granulation, Encapsulation, and Quality Control. As your energy depletes, will you sample some of your own product? Or push through the year on fast food and coffee like a normal American? Order now and receive one free dose of Folic Acid.
Have fun! And let's see what we come up with!