As a follow up to JR Honeycutt's article on Cooperative Games: Advice From the Experts, we asked some of the top board game designers of cooperative game experiences this question:
What win % do you want first time players to have in your co-op game?
I had heard that Anthony Bauza had a number in mind – 0%! Could it be true?
Did anyone feel the exact opposite at 100%?
Well, we didn't find a designer touting 100% quite yet, but Mike Selinker is our highest bidder at a 75% win rate.
Here's the chart, followed by some brief reasoning from the designers.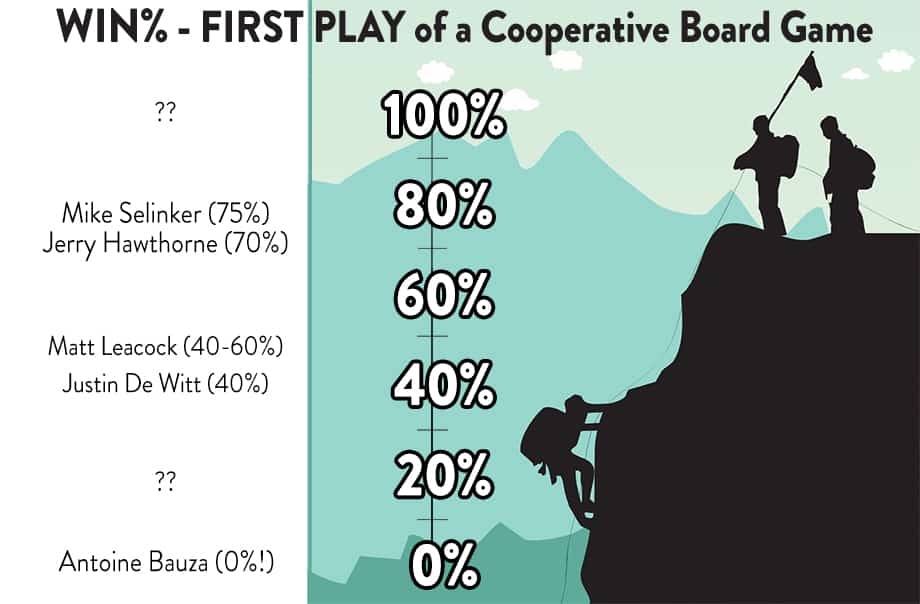 Antoine Bauza
First game for a new group? I want them to lose, always, so 0% winning rate, period. (Ghost Stories, anyone?)
Justin De Witt
Shooting for 60 losses to 40 wins for the general light strategy gamer. (Castle Panic)
Matt Leacock
Roughly 40% for the first time through a cooperative game – but for an experienced group (e.g. Pandemic). 60% for a session in a cooperative legacy style game (e.g. Pandemic Legacy).
Jerry Hawthorne
From the interview with JR, Jerry cites 'I shoot for a 70% win rate because I don't want my players to have to play through a chapter too many times to beat it.' (Mice and Mystics)
Mike Selinker
People don't like losing anywhere near as much as they say they like it. (Pathfinder Adventure Card Game, Betrayal at House on the Hill)
—
And there you have it. If you have designed or are designing a cooperative game, where do you see your goals on this chart?
Name Your Win % in the Comments!
The following two tabs change content below.
Peter eats games for breakfast! Founder of First Play LA, Squirmy Beast and League of Gamemakers, and Director of Development for Breaking Games. First published designs include What the Food?! and Nightmare Cove, and development credits include Letter Tycoon, Boomtown Bandits, Sparkle*Kitty and Rise of Tribes.
Latest posts by Peter Vaughan (see all)