The Game: KING of CRIME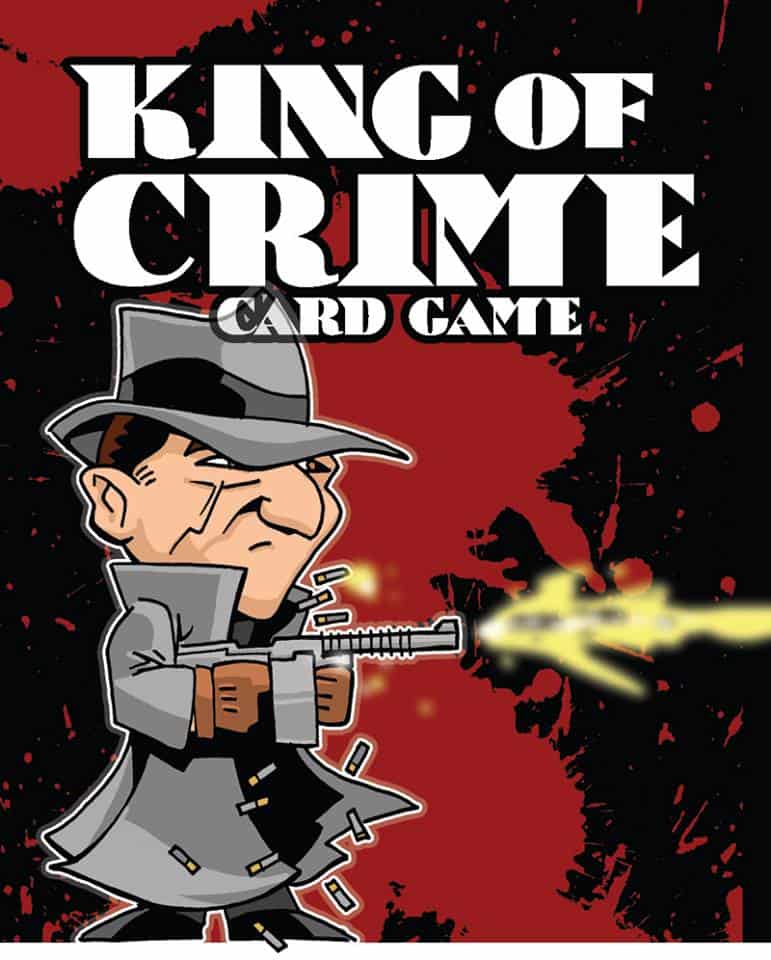 I had this game ever since I created Battle of the Bands back in 2000. I liked the game engine and with a few tweaks, it was perfect for the concept of running a mob family in the 1920-30's. Having no illusions of ever getting it published, it was only a favorite to my close friends and me.
Many of the game companies I worked for turned me down because:
1. Magic the Gathering owned the market, and
2. the genre wasn't big enough to warrent the gamble.
The Platform: KICKSTARTER
Having heard of KS, I decided that, I TOO could produce a card game! From the pile of games on my computer, I decided on my fave, King of Crime (KoC). I started gathering all of my information.
Pre-Production: PRINTER
China: Good prices, but with the inherient problems of shipping, turn around time and culpability on their part, I decided to print in the USA. Problem with that is the initial runs were 1000-2500 units and it was WAAAYYY expensive. My base funding cost would have been around $20,000! The gangster genre, although is one of everybody's favorite themes, would not support that level of support. AND, I wanted a specific box type that was "Undoable" in the states.
U.S.A.Enter my old school friend who was a printer. We had done some poster/business card printing in the past-all good- and he said we could do this. He then gave me over to his son, who is learning the business, as the liason. We go over it and we get a price that was doable. Not with MY box style, but I understand give and take in business. It would take $10,000, which included shipping costs for about 100 units in the USA, no profit margin for me, but I would make about 100 extra units to sell and make something for my efforts. Here is the KS site for the campaign:
Result: FAILURE
Needless to say, didn't make it. Being the forward thinker that I am, I didn't take it personally and thought how I could make lemonade from this. I went to my backers and proposed this concept:
"Back me for what you would have on the KS, we'll make a special edition for you to have. You give me your feedback, become part of the process, and whatever you come up with that will work with the game, I'll include. You get credit and in any event, we'll have this game."
They went along with this ponzi scheme! But instead of taking the money and running, I got it printed with a different printer-It's a printer a good friend of mine has done work with and their game looks great… because they did the printing unit amount that went the China route. My amount level had them "sub contracting" the work to another printer in New Jersey…and what I got was HORRIBLE! The colors were really off and the alignment was wacky in some cases. (That will reappear later on in this story…) And, it was not a smoke-free shop, so everything in the box smelled of the Marlboro Man! I live in Los Angeles, we are delicate that way. 😉 And it was really late in getting shipped to me. Really late, like 2 days before I promised shipping them out to my supporters. (My original printer couldn't do such a small print job for the amount raised, but was in for the next one…) I called the printers and with some scans and profuse apologies they reprinted the set and rush shipped them to me about a week and a half late. I like the lady who runs the company, but to have subbed this out, in my mind, was a slap in the face.
Next step: INVOLVEMENT
My supporters got into the mix and came up with some cool card ideas I had missed. I tightened up the art, got some great feedback at a local con on a game mechanic and how it was being represented on the card, all in all, a better game was emerging. And it was a great game to begin with, so this was a blessing in disguise.
Into the breech, once again: KICKSTARTER
I started another KS campaign for the revised edition, the BOOTLEG edition, as KS wouldn't let me name it the same name. My original printer tweaked the numbers and we were going to be able to do it for $6,500. (Although, the shipping wasn't addressed as well as I had thought, but I figured, if I had to shell out a couple of hundred bucks for shipping, I wasn't going to cry about it, after all, these people took a chance on me, I considered them my dear friends and will treat them as such. Here is the campaign:
And we succeeded!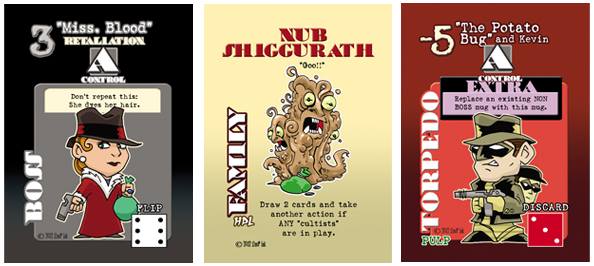 Then my printer said they wouldn't make the game for that amount – they thought we would make it into the $20,000 area and they would have made a tidy sum. When that didn't happen, I was shown the door.
I freaked.
But being the dreamer I am, I didn't stop. My wife, Tisha, was instrumental in looking for printers who were local that would/could do this kind of work. She found a printer and said "They're pretty close, let's go down and see them." Why not? I go into their building, in the old end of town – think something from an old Bugs Bunny cartoony factory scene, and they are making MY BOX! Piles and piles of MY BOX style! Say no more, we became good friends, he worked with me on the price and fulfilled my orders.
My only glitch was the company who actually printed the cards. I went to proof the cards, making sure all of the 200+ different cards were represented, but didn't look at the backs to see if they were properly aligned. (I thought that would have been a given…) Some of the cards were wonky. Once they were all finished and packaged and sent out, that's when my supporters clued me in to the backs. Seeing how long it took to get this out, I decided to just let it go. I can only do so much. But I didn't try to hide from the problem, I let everyone know what had happened and did whatever I could to make them happy. If they wanted to send the back for a refund, no problem. I tried to send off replacement cards but realized it was the same on everyone of the problem cards. Ultimately, I spent about $400-500 of my money at the end, due to not understanding the postal system fully. I don't regret it, as the friendships I have made are worth more than gold.
I believe my attitude towards my supporters made a difference. I responded to every message, question and comment. I kept everything that happened during the campaign transparent. If it was good, they knew. If it was bad, they knew. I let them know what my plans were when they happened and was able to get the game out BEFORE my shipping date. (A couple of days before, but still…BEFORE!) 😉 Even now, I get very kind messages from my supporters about how much they appreciate my campaign and the extra attention I gave it and them. That makes it for me.
Money comes and goes, but appreciation is forever.
I have promised to do another campaign to finish up the expansions we didn't reach, I WILL do it, probably at the end of the year-my convention commitments for my comic book are keeping me busy.
Comic book?
Right here:
(Like it!!)
And here:
Thanks for your attention, you may go get some coffee…
The following two tabs change content below.
Latest posts by Dan Smith (see all)