Unless it's devoted to tabletop games, finding tabletop game activities at your local convention can be a scavenger hunt game in itself. Are they in the back room of a hotel? The space between the first and second floor of the convention center? Some picnic tables in between the Nintendo and Sony tents? Even though tabletop games have overlapped lots of different types of conventions and festivals for years…
…no one is quite sure where our games belong.
Some conventions are picking up that geek interests are bleeding into one another, and are actively looking to up their "game". Last month, Denver Comic Con announced a whole new section of E.D.G.E. Programming tables for 2015, and this week, Topatocon, a new convention founded around comics, podcasting, indie gaming and music, opened applications with claims that not only will there be a tabletop gaming specially oriented toward indie game developers, but food service to your table.
Most conventions may not be that accommodating, but certainly might be worth checking out if they're convenient to you. Some other places you might find tabletop game activities (if you scour the program very closely) include:
Anime/Comic/Sci-Fi conventions
Digital game conventions
Festivals
Toy and Craft Shows
Industry Tradeshows
Maker Faires
How can we help non-gaming conventions find a place for us? And what does it take to thrive there?
Beginning gamers like familiar, inclusive mechanics.
Four years ago, I attended Penny Arcade Expo (PAX) in Seattle. I saw a lot of new video games, but one of the only purchases I made was a tabletop game called Bull's-eye. I still remember their tagline, "If you can spell, you can play!" And of course I could spell! Bam, immediate inclusion.




I've seen this happen with the League's word/math games like Tom Jolly's Got It! and Brad Brooks' Letter Tycoon (more games that call on basic word/math skills) and party games like Telestrations. Call on mechanics or knowledge the ordinary person might already have if your game lends itself to that.
Make your space a place where new designers can come and ask questions about the process.
One of my favorite things about being a featured designer at The Game Crafter's convention booths is that their space is inherently oriented toward new designers. There's a value in identifying that you're not only there to show your own game, but to share your knowledge.






Try and share your personal story/process to inspire and encourage new game designers who are just trying to get together their first prototype or might never have heard of Kickstarter.
Find the indie/DIY angle.
Brewin' USA and Viticulture have found niches in the worlds of independent beer crafters and wine vintners. Games that feature laser-cut and handcrafted components like Grow find resonance with both digital and traditional 3D artists. A 2014 game about quilting is completely sold out, despite being only two player (which many publishers view as the kiss of death). What do these have in common? The DIY audience.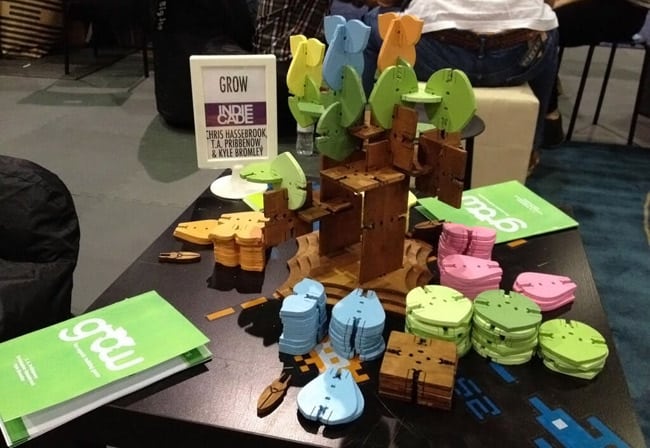 Indie-minded audiences want to support artisans in other fields, so if you have an opportunity to show a parallel between your world and another DIY world, don't ignore it! It could be the niche your game needs to succeed.
Think about personal narrative. Literally.
Even if you don't go full-on True Dungeon, there are small ways you can make your game have a life-sized impact. Who can resist life-sized Tsuro or a dexterity game like Jenga? You might also try an approach like Kelsey and Mike Domney, who incorporate people as players in a murder mystery reenactment-style playthrough of The Amberden Affair at Gen-Con.






There are lots of approaches you can take to this one, and again, it might not work for every game, But if the movie Jumanji taught me anything, it's that physically placing someone inside the game can be very powerful.
Present your game less like a product and more like a science fair project.
At a show or festival that is not exclusively gaming (and even some that are), your main job is to teach people things and getting them excited about a new concept. Think of it like a science fair. Some are just going to be there for the spectacle of the volcano blowing up. Some are going to want to go one step further and try it at home.
But if you go in trying to sell the volcano, you're setting yourself up for red-hot failure.
Idle curiosity by people who want to learn more should be not only expected, but encouraged. Make your game stand off the table and draw attention in a way that demonstrates a new idea.
Not getting the space you need? Make your own.
Convention organizers want interesting, crowd-engaging content, but if all the experience they have is with Monopoly or dirty games you don't want kids playing, they might not see the potential games have to engage general audiences of all ages. If your local geek cons don't have programming around board games, see if you can partner with your local game stores and come up with a schedule of games to present, demo, or playtest.
By reaching out in your community, you might find that the next Knizia lives in the same small town as you, or that there's a metalworking geek who's always wanted to make a Tzolk'in gear out of children's playground equipment right down the road.




The overlap of tabletop games with other geek gatherings is growing year by year. Look to your local conventions and see what kind of opportunities are already there, especially if tabletop-focused shows aren't an option for you yet because of geography/budget. But also keep an open mind, because it might mean expanding our expectations about what it means to attend a convention and provide an experience.
Your turn!
Do you engage with board games at non-game conventions? Have you tried to promote your tabletop games at one? What advice do you have for the crowd?
The following two tabs change content below.
Latest posts by Christina Major (see all)