Tackling a kickstarter game can be a completely overwhelming experience. It's a ton of work, and it involves many different steps to do it right. Have you ever wondered how the pros keep track of everything? Fortunately, the League of Gamemakers has recently gained access to The Complete Kickstarter Checklist for Tabletop Games created by Kickstarter veteran, James Mathe.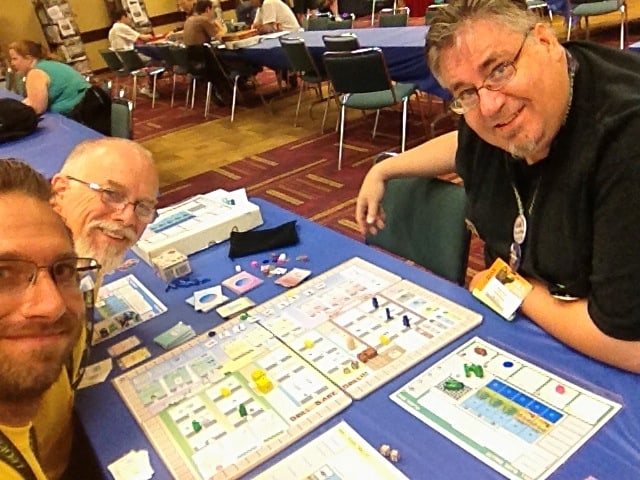 Tom Jolly, Luke Laurie and James Mathe playtesting The Manhattan Project: Energy Empire – coming soon to Kickstarter
James Mathe
James Mathe is a multitalented and prolific entrepreneur. He is the president of Minion Development Corporation (Minion Games, Game Universe, RPG Shop), the creator of RPG Now(pdf download store for gaming) which pioneered the paper and pen RPG download industry. He is co-founder of OneBookShelf, Inc. (Drive Thru Cards, War Game Vault, Drive Thru Comics). His game publishing company, Minion Games, has published great games such as The Manhattan Project, Kingdom of Solomon, Battlemerchants, Hegemonic, and most recently: Dead Men Tell No Tales and Dragonflame. As a "smaller" publisher in the industry, he is no stranger to all that is Kickstarter.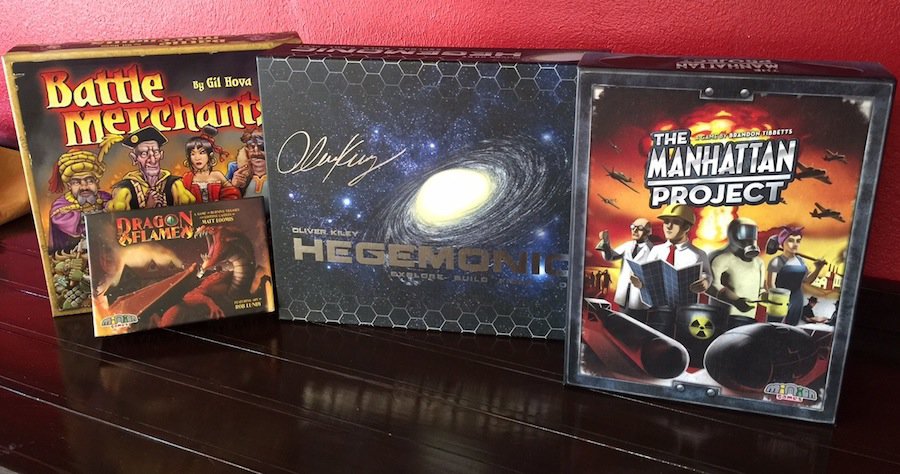 Mathe has done significant work for the tabletop game design and publishing community by creating and maintaining Facebook forums and posting online resources in order to help people learn the business and to foster collaboration. These efforts include the Card & Board Game Designers' Guild on Facebook, which is approaching 6000 members, and the Tabletop Game Publishers' Guild, which has nearly 2000 members. He also posts excellent resources on his blog, which are often referenced by the League of Gamemakers.
The Complete Kickstarter Checklist
The list below includes all of the significant steps that are taken on each game Minion publishes using Kickstarter. This list is a living document, open to suggestions and discussion for what should be included. Keep in mind that each project is a little different, and steps will not necessarily occur in a rigid order.
IN-HOUSE DEVELOPMENT
Contracts Signed
Prototype Print & Play w/ Rules
Blind Test Groups
Artist Requirements Worksheet
Layout Requirements Worksheet
Finalized Rules
Edited Rules
Request For Quotes (options for upgraded bits)

PRE-MARKETING

Final Artwork Print & Play
Order High Quality Prototypes
BGG Database Entry
Demos Copies to Reviewers
Collect E-Mails for Mailing List (from a Contest or PnP or just an open call)
KICKSTARTER
Pre-KS Marketing (Designer's Blog?)
KS Planing w/ Stretch Goals & Shipping
KS Page w/ Rewards & Graphics
KS Intro Video
KS Game Play Video
Banners & Art for Ads
KS Launched (Mailing List, Social Media, BGG Posting)
Pre-Order Page on the E-Store
KS Last 48 Hours (update page to link to pre-order page)
KS Money Transferred
KS Survey Sent
MANUFACTURING
Update & Sign Final Manufacturer Contract. Paid Down Payment
Final Mechanical Files Uploaded
Final Models for 3D Items Sent
Digital Proofs Approved
White Box Approved
Mass Production Copy Approved
Paid Balance of Manufacturing Bill
KS Pack-Ins Completed (Exclusives, Fliers, Signed Copies, etc)
Paid Customs & Trucking
Product Received
SHIPPING
Change Pre-Order Page on the E-Store to just an Order Page
Shipped Kickstarter Backers
Shipped Pre-Orders
Shipped to Distributors (or start contacting retailers direct)
Send Reviewers their Final Copy
MARKETING
Listed on Amazon
Post Release Marketing Plan (Conventions, Ads, etc)
Visit James Mathe's site to download an excel or open office version of this list.
Do you have any suggestions for this list? Did you find this post useful? Leave your comments below!
The following two tabs change content below.
Designer of Stones of Fate and The Manhattan Project: Energy Empire
Game designer by night, and middle school science and pre-engineering teacher by day. He lives in Santa Maria California with his amazing wife and two unrealistically well-behaved children.
Latest posts by Luke Laurie (see all)